Using It the Way It Was Intended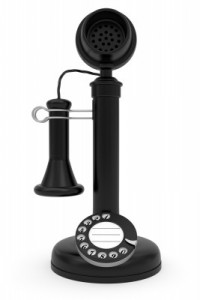 Over 100 years ago, Alexander Graham Bell invented a device that is still in use today. It allowed for verbal communication between two people when one was in one location and the other was in another not immediately near them. And, even with all the advances in technology in the world, the device can be still used in the same way as Bell and his assistant, Mr. Watson used it in the late 1800's.
That came to mind to me earlier this afternoon when I reconnected with one of my clients with whom I had not spoken to in months. The client had received some services from me, but we were not able to complete others at that time. He was in the middle of moving his family to New Jersey from Missouri. While his wife's job was the reason for the move, he had the accountability to get the new house set up, ensure that the children were enrolled in school and look after the educational needs of one of those children who had learning disabilities. About the last thing he had time or attention to focus on was his own job search.
Last month the Absolute Transitions, monthly newsletter for June, spoke about the importance of follow-up. Building on that topic this month, it is not only important to follow-up, but to do so through multiple occurrences and methods. When you think of our world today, and the invention that I eluded to above, the telephone, we now use it to send "text messages" and emails. We will use it to take pictures, look up information, play games with it, and basically absorb ourselves in it, even if we are sitting with another person with whom we can have a conversation. Will we use it to actually dial it to call someone to have a conversation? That depends!
If we know the person well that we are calling, we may. In fact, now a days we may do so, and use the device in such a way that we are not only talking privately with the person we have called, but are conducting that conversation with the "whole immediate world" of human beings around us. It used to be if you saw someone walking and talking to themselves, you may get a little worried or concerned for or about that person. You still may feel that way, but often you will see devices of some sort or another attached to their ear, and it gives you a sense of "stability" that all is well.
When I hung up the phone from my client (who agreed that he still wanted to work with me, and actually encouraged me with a time in the future to reconnect with him BY PHONE), I realized I was as guilty as everyone else. I had begun to assume he may not be interested in continuing services. I had emailed him a few times, but with someone as busy as he had been, the email account might be the last thing he checked. We often fall into the habit of looking to connect with people in the way that makes us less comfortable. We lose sight of the fact of remembering that what may work for the intended receiver of our message may be a different method than what we prefer.
I have other clients on my follow-up list. And, while I will follow up with them by email, I will remember my encounter of today and remember to give them a call.