The Power of Collaboration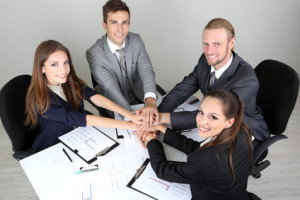 A fellow coaching colleague of mine reached out to me recently. She had been working with a client who was having a difficult time in their job search. My colleague first needed to face the challenge of assisting in boosting the self-esteem of her client. As she was moving forward on accomplishing that aspect of the engagement, she realized that she was not necessarily up to date on all the latest in terms of approaches and techniques of job search. She reached out to me to ask me if I would be willing to sit in on a session with her client and offer my expertise on approaches the client might take to move her search forward.
I was happy to do so. While directly coaching and working with one to one clients is the major focus of my business, the business also entails facilitating job search support groups, speaking to job searchers on strategies they may employ, and providing guidance and tips through my blog and newsletter writings. While I had not had a previous experience where I had collaborated directly with another coach on behalf of a client, it was a very energizing experience for my colleague and me. Both, of us were able to focus on our areas of expertise. We actually worked together to boost each other's observations and in turn help the client.
A short time later the client actually received a job interview, which my colleague prepared her for as so much of it was about the client's presentation and attitude, as opposed to her knowledge of the job requirements (those were solid). In a follow-up session, my colleague asked me to join them again, as an offer was expected to come, and we wanted to get into the fine points of negotiating the offer and its contents. After that session, the client was offered the job, her first time working in 10 months. And, we were able to leave the client at a place where, she had confidence to build on this success to look for an even better job going forward.
Why do I share this experience? Often we feel we must handle every issue and situation which we face completely by ourselves. And, indeed while we may have the talents to do so, often the solution that is best for the challenge being faced is one we come to when collaborating with others that may have a perspective and expertise that is more honed than ours in terms of particular aspects of the situation. There is a networking group to which I belong which has 24 other professionals in it. We meet weekly to trade business opportunities. In that group are my "go-to" people. There is the fellow who is the expert at solving computer software issues, and ensuring the data that I use on my computer is safely backed up. Another member of the group is on top of all possible options in terms of health care insurance for those who may need policies for themselves and their families, yet don't have those opportunities available from their place of employment. There is the financial planner who has a certification in working with divorced women, and the business attorney who can answer questions on the items one setting up their own business need to consider BEFORE problems arise.
So, if you are facing challenges in your life that have you on edge, look to determine who in your network may be able to collaborate with you on them, toward a solution. Yes, you own the problem or issue and you ultimately need to be comfortable that the options offered as ways to move forward are right for you. (The client in the case of my coaching colleague and I was never offered solutions for which they were not comfortable implementing, but instead offered suggestions and our observations on progress they were making.) And, while it may be admirable to "do it yourself," if it is getting you frustrated, feeling defeated and ready to give up, allow yourself the gift of collaboration option to assist you in getting you where you would like to be.