Keep Yourself Relevant In the Eyes of Those You Are Looking to Attract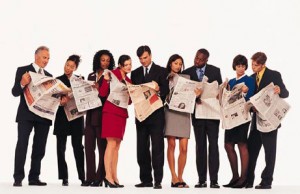 Normally by this point of the summer I begin my preparations for the research I do in terms of managing my fantasy league football team.  Usually, I'll buy a magazine or two, research last year's statistics, see who may be recommended as productive players for the coming season.  However, this summer things are different.  America's National Football League (NFL) has had labor difficulties for several months.  There is even a possibility that there may not even be a season.  While certainly I will likely continue managing my fantasy league team if games are played, and as such follow NFL games, it occurred to me that frankly at this point in time, I don't care.  If the labor difficulties are settled, fine.  On the other hand if they're not, I'll move on with other aspects of my life.
I bring up this example because it is a good one for showing just how quickly one can slip out of relevance in the eyes of those whom you are looking to attract if you don't keep a concerted effort to do so.  The entrepreneur who is looking to get their business product noticed, the job seeker who wants to stay attractive to a prospective employer or a speaker that is looking to have their message heard are all examples in everyday life of those to whom relevance is of significant importance.  Staying relevant in the eyes of those you are looking to get your message across to takes concerted effort.  It is not going to happen if you stayed locked in your office or if you close down the lines of communication to those you are looking to reach.
In a  job search, there are four ways to seek to make contact in order to get interviews.  Basically these four methods in some way or another apply in many other aspects of life.  The four methods are to use direct contact, network, use a search firm or place an ad.  While search firms and placing ads are very common contact approaches job hunters use to make contact, they are passive forms of contact.   You are not sure how your message is being conveyed or received.  In a search firm, a head hunter may advance your resumé or not choose to do so.  Ad's answered, (whether through electronic or paper means), have your resumé being combined with stacks of others leaving the sender unsure of whether it was looked at or not.
While passive methods could possibly help you to stay relevant and in touch with those who you are trying to attract, they still ultimately cannot beat active methods such as direct contact or networking.  Just so we're clear on the difference between the two, networking is when you make a contact with someone because you were referred to the contact through another person.  So, for example, you would say to your contact, "John Smith indicated to me that you would be a good person for me to meet."  The contact you made was because of your initial relationship with John Smith.  However, direct contact is when you take the initiative to reach out without previously knowing the person.  You may choose to send them a personal letter, you may call them up on the phone or you may make a "cold call" on them at their place of business.  In any case, you are making the connection yourself and sharing what it is you have to offer that they may find of value.
Yes, active methods take effort, often a great deal of it.  And, yes, they can be intimidating, particularly when you don't know the person you are looking to contact very well, if at all.  However, ultimately, if you are going to be relevant in the eyes of those with whom you are looking to connect, they need to form a bond with you which will require some kind of personal connection.  That type of connection only happens when the two of you have meaningful interchange of ideas where you are able to convey your message to one another, and form a bond that allows each of you to get to know each other and what you have to offer. Once making those connections, and establishing that bond, it becomes even more imperative to keep the connection going on an ongoing basis, (particularly if it is of value to either party in time of need).  Therefore, follow-up, with calls, a note or an in-person meeting, possibly a lunch or for coffee is of value on some sort of regular basis.
To not stay top of mind with those who can have an impact in helping you achieve what you desire to achieve, increases your chances of becoming irrelevant in their eyes.  Becoming irrelevant isn't because they're mean or they don't care about you.  Just like you, they can easily get busy with their own life and lose sight of who may have what they need to address their need of the moment.
Therefore, when you work hard to get that meeting, make that sale, or pursue that lead that you have been given, remember to not only savor what it took to get it, but be able to file it away and reach out to it again someday.  It doesn't require anything fancy.  Possibly it's just a quick call to say hello or acknowledge an occasion.  Or it may be a note to get someone up to date on what you have been doing, and what you may have available that they could use someday.  Things move so fast in today's world it is easy to be forgotten if you don't continue to be there.  Believe me, there will be a host of people who will find plenty to do this fall if professional football (or subsequently professional basketball as they are having labor difficulties too), decide not to stay relevant in the lives of those who care about them.