Writing It Down Can Help You To Move Yourself Forward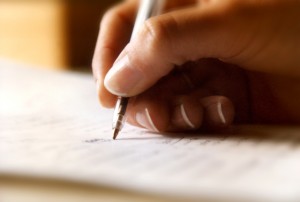 From the time I was in the first grade I can always remember having a good memory.  I was always good at remembering facts and figures, dates, events and details to the experiences in my life.  As such as I grew older one of the habits that I picked up was to tend to trust things to my memory as opposed to writing them down to remind me about them.  It is a bit ironic then that as I have reached this point in my life, that I have learned the monumental value of putting your thoughts down in writing as a way to help move ones life forward and to gain a true assessment of what one wants in their life.
When I read back the monthly blogs that I have written over the last several months they help to reinforce for me the principles I believe in as I move forward through this phase of my life.  Additionally, every book or article I have read on goal setting or planning stresses the point about recording your goals and the steps you are going to take to accomplish them, by writing them down.  A current book I am reading on how to conduct a thorough job search process stresses the importance of writing down your past accomplishments in one exercise and recording your vision for the future in five year increments in a separate exercise.
Writing is a powerful tool.  Whether you are one who likes to take pen to paper and record your thoughts, or if you prefer to use more modern means by typing your thoughts into a computer screen, it can be very therapeutic to see your thoughts on paper.  I realize that for some, the idea of their thoughts in writing can be frightening.  However, not everyone who sits down to write is doing so to publish a book or even post to a weekly blog posting.  Even if you are painfully shy about sharing what you have written with others, there is value in jotting down your thoughts and seeing how they play back when you read them to yourself.  After awhile you also learn that by having your thoughts in writing it is easier to share them with others who may be able to help you in moving forward to accomplish your hopes and dreams.  Those who can support you are likely not to be able to read your mind.   However, they are going to be able to gain an understanding of what you believe in and find valuable if they have an opportunity to read it back from something you took the time to put down on paper.
So, what is that change that you have been contemplating making in your life?  What are those activities that you plan on doing once you have some free time set aside to do them?  How is that job search going for you?  Do you have a written strategy of the steps you are going to take to go about it?  If the answer to any or all of these questions is no, stop yourself.  Take the thoughts that have been in your head where you have been contemplating them over and over again, and give yourself the gift of putting them down in a place where you can refer back to them at a later time when you have the opportunity to focus on them.  Whether it is writing a blog, recording your thoughts in a daily journal, developing a plan to get toward a goal, or just taking an assessment that allows you to record your thoughts on how you feel about a certain topic, the one thing they have in common is they make you take the time to record your thoughts.  Recording your thoughts slows you down to the point where you become more in tune to what is really inside of you.  In this fast paced world where everything goes by in bits and pieces, taking the time to sit down just you and your thoughts, is one of the key components of moving forward toward what you really want to achieve in your life.