When Do Your Best Ideas Come to You?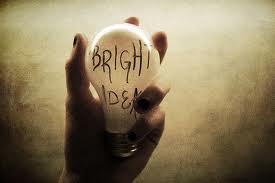 I find often I come up with my most creative ideas and approaches early in the morning as I am getting ready to start my day.  During that time period I've come up with ideas for my weekly column.  I've thought through techniques that I believe will work best in assisting my clients.  There is just something about that period of time that I find my mind is not distracted.  Thoughts build on each other to develop approaches to items that I'm looking to accomplish which works best for me.
While for me morning works best that may not be true for others.  For them perhaps they do their best thinking later in the day or even late at night.  There are others who find they're able to be at their best when they put aside time to do an activity such as walking, running or meditating.  When I was going through my coach training, I was introduced to a concept called "centering", which was similar to meditation in that it required one to sit, relax, control their breathing and become more in tune with their higher levels of energy.  Centering involved techniques of using imagery and seeing what it was that you wanted to have happen in your life.
The point is that even if you are not sure what may work best for you right at the moment, there is likely an activity or a time of day where you do your best thinking.   If you find that you are continually flustered and unable to come up with the ideas to move yourself forward you may want to take the following steps.  First, take some time to step back and be alone with your thoughts.  Look back and identify those times when you have come up with some of your best ideas.  What was common about those occurrences?  Was there a particular activity that you were doing?  Did they happen at a particular time of day?  I really don't think such repeatable patterns are coincidence.  We each as individuals function better at different times or while doing different activities in our life.
Another thing I have also had to discipline myself to do is to write down the ideas that I want to follow up on at a later time.  After all too many occurrences of having an idea, wanting to work on it at a later time and then forgetting the details of it as I became busier in my day taught me to have a pad and pen handy.   For me, mine is in my home office which happens to be adjacent to the rooms in my house where I get ready for my day each morning, and where I'm most likely going to come up with ideas and then take the next steps for action.  For others it may mean carrying a small pad and writing implement around.  More and more people are becoming technology savvy, and are able to use the portable electronic device of their choice as their place to capture those ideas upon which they want to act.
Above all become more focused to being aware of the cues which are a part of your life.  We can often let the negative things that happen to us so take over our thought process that we block from ourselves the positive steps we look forward to taking.  Circumstances may dictate that great thought or idea we have may not be able to be addressed at the moment, but certainly it should not be come into our mind and then be lost if we prepare ourselves to capture it and take action on it at a time that works best for us.  We all have that time that those productive thoughts and ideas come to us.  It's up to us to recognize when that is and use it productively to become the best we can be in the life we choose to lead.