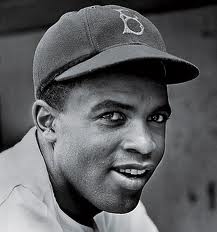 Jackie Robinson was without a doubt one of the most influential individuals of the twentieth century.  While his achievements were best known and performed on baseball diamonds in many major league ballparks, it was what he faced and how he responded to it that made his influence not only on the game of baseball but society in general so memorable.  While most know Jackie Robinson's story, for those who don't –  he was the first African American player to play in the major leagues after they had been banned from the game by the owners of major league baseball simply because of the color of their skin.  When Robinson joined the Brooklyn Dodgers, he was far from welcomed in most major league cities, by opposing players and even some of his own teammates.  In spite of receiving many insults and even threats to his well being, Robinson performed superbly in that first season of 1947, winning National League Rookie of the Year, on his way to a Hall of Fame career.  Ultimately, not only the quality of his play, but how he played in spite of the abuse he faced eventually changed many minds about the ability of both whites and blacks being able to play on professional sports teams together, but also to be able to work together in other walks of life.
Our August quote is directly attributable to Jackie Robinson.  It reads as follows, "A life is not important except in the impact it has on other lives." Jackie Robinson, through his courage and achievements had an impact on a great many lives, not only in his generation but for several generations to follow.  While many of us will not have the impact on society that Jackie Robinson had, each of us has the ability to impact those with whom we come in contact.  By the same token, we in turn are influenced in our own life by others that have touched us.  The Jackie Robinson quote this month on the Inspirations calendar is tied to the theme of Mentoring.  A relationship of a mentor and the one they are mentoring is certainly one that has an impact on both individuals.
For the one being mentored, they receive the gift of the sharing in the experiences of the one who has gone before them.  They have the ability to share their dreams and desires with someone who has already been down the path that they are seeking to go.  There is someone there to guide them, encourage them, counsel them and push them forward as needed.  There is the ability to have wisdom passed from one individual to another or often from one generation to another.  The knowledge of one is passed onto another, ideally for the continuation and betterment of not only the one being mentored but others with whom they will come in contact.
However, the mentor themselves also benefits from the relationship.  For the mentor, there is a feeling of comfort in knowing they have a chance to give of themselves, likely to the next generation.  This giving may often feel like a way to pay back those who came before them and guided them on their way.  It is an opportunity to see what they have learned and accomplished being able to continue on through the efforts of another.  It also gives the mentor a sense of value in that there are those who want to learn from them and respect that which they have accomplished in their chosen field.
While the quote on the calendar is specifically aligned to mentoring, there are so many relationships that all of us have which have impact on one another.  Whether that relationship is parent to child, grandparent to grandchild, teacher to student, doctor to patient, boss to staff member or coach to client, there is always the opportunity to influence another.  When the individuals involved truly care about the relationship and each other that impact can be of a very special nature.  And, while the feeling is often that the one who is "subordinate" in the relationship is the one who gains, a really strong relationship has benefit going in both directions so that the one who is leading or directing also receives benefit in return.
None of us lives in a vacuum unless we so choose to do so.  Many of the things we do in our day to day life may seem very ordinary and not worthy of praise or recognition.  However, if that which you do as you interact with individuals each and every day touches the life of just one person a day each day that you live, you are truly living a life that is having an impact on the lives of others.