Transition versus Change – There is a Difference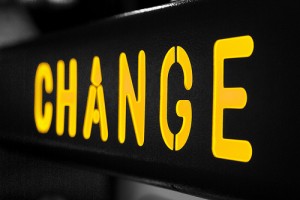 Regular readers of my blog know that I have expressed a good deal of thought on the topics of change and transition over the previous months.  The words are used so interchangeably that it is easy to believe that they are one in the same thing.  However, while related they truly are not.  As I continue to move forward on my journey that is "Absolute Transitions" and the development of my coaching practice, it continues to grow apparent to me that the transition piece in particular is an ever evolving process with continued lessons to be learned along the way.
How do change and transition differ?  Change is usually an event which while it can happen with your input and consent, can often time happen without it.  Other characteristics of change are that you usually observe it happening, it happens externally to you and is very noticeable.  An individual is often focused on the outcome or result of change and that result can many times bring out negative responses in an individual such as anger, depression, illness or low self-esteem.    Because the tendency in humans is to resist change, (even when it is because of a happy event such as a wedding or a planned retirement), change evokes a great deal of stress in the individual.
Transition on the other hand is the process that helps one to understand and accept the change which has happened.  As it is a process it requires time and patience of the individual.  Other characteristics of transition is that it is an internal process influenced by external events, you feel and experience it as it happens, is often subtle and has less definition than does change.  The process of transition helps to provide the individual understanding of the emotional responses brought on by the change happening in their life and as a result may not necessarily have and outcome or result attached to them.
When I left my first career as a Project Manager and Systems Analyst in 2008, after 30 years at the same company, it was indeed a change in my life.  While it happened as my own choice, it still has been an evolving process that has gotten me to where I am today.  Additionally, I realize that transition continues to take place.  The transition first had me take some time for myself and address issues that were personal to me to be completed as closure to promises I had made to my wife who had passed away 18 months before.  From there, I spent some time with an outplacement firm determining what I wanted to do next in my life.  At the same time I opened myself up to being more of a "student" than I had been at any time since I had graduated college.  After that I pursued an actual course of study that has led to my current career and business.  The new career has in turn led me to meet a number of new people that have come into my life and to experience events from a different perspective than which I had previously.  While I am very much a product of my past, I see myself incorporating in much of what I am learning now with lessons from my past to help be an active and contributing member to the chapter of the coaching association to which I belong.
The transition has continued in earnest over the last several weeks.  An opportunity, based on the experiences that came into my life over the last two years, has now led me to adapt myself and my practice to focus on becoming an expert on the strategy that my clients should take as they approach the job search process.  I am actively in training to be certified in the process that I am learning and it is an area that has me excited as I get more involved with it.  Career counseling and job search strategy helps me to  focus on the expressed needs of my targeted client base and put me in a better position to be a partner with them as they work their way through this growing area of concern in many of their lives.
The lessons I have learned over the last two years has reinforced in me that the transition into this phase of my life, (active Baby Boomer starting a second career and adapting new thoughts and styles into how he goes about that which happens in his life), is destined to be a continual process.  And, that is just fantastic to realize, because it means that whenever one possibility in my life appears to close or not pan out the way I thought, there are other alternatives available to me, as long as I'm willing to explore and pursue them.
In closing my thoughts on transition, I would like to leave you with seven watch words that sum up what transition entails.  All seven words begin with the letter "P", and are a part of any solid transition one looks to undertake.  They are:
•    Purpose – Inspires you to focus and create your plan.
•    Planning – A thought-out plan will give you direction and help you set your goals.
•    Place – Structure your day that you are working on some component of your transition each day, whether big or small.  It keeps you on track to your goal.
•    Positive Attitude – How you look at things will influence your actions and your daily activities.
•    Preparation – Try things out before you make a long-term commitment, helping to avoid future surprises or tendency to be upset.
•    Practice – Motivation and persistence will get you where you want to be.
•    Patience – Most things take longer than you think to come to pass so stay the course, even if they don't happen right away.