Tips for Living with Health Issues at Midlife

The evening of January 22, 1999 is one that I'll not forget for the rest of my life.   I was about ready to go to bed for the evening when a strong pain came across my chest making me very uncomfortable.  I had experienced similar discomfort earlier during the day at work but it had gone away.  However, now it was more persistent than earlier in the day.  Although still a bit over 3 months shy of my 44th birthday, I knew that heart disease ran in my family.  My father had passed away from a heart attack at 53 years of age.  My diet, while not completely atrocious, still was not what one would deem heart friendly.  I also worked long hours, usually leaving only a few hours each evening for relaxation, which meant usually reading the newspaper and watching TV.
A subsequent trip to the emergency room and follow-up stress test revealed I was suffering from Coronary Artery Disease (CAD).  One artery to the heart had a 90 percent blockage, another, an 80 percent blockage.  Ten days after my initial episode I was in the hospital for a catheterization and subsequent angioplasty.  However, that was not the end of my artery issues.  Over 3 years passed, when a subsequent follow-up stress test discovered more blockages.  I didn't even feel pain this time.  From the period of the fall of 2002 through the fall of 2004, I would experience 9 more blockages in 4 separate episodes.  While I have been blockage free for nearly 6 years, I live with the reality that I am a heart patient, and will be for the rest of my life.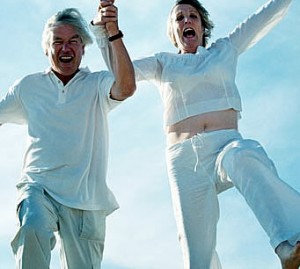 I share this with you because midlife is a time when it is not uncommon for various ailments to occur in one's life.  While mine occurred earlier than many approaching the midlife cycle, it helped to provide me with some early perspective and consciousness in terms of dealing with my health for the rest of my life.  And, while I don't profess to be anywhere near a health and fitness fanatic, there are a number of things I have learned and do try to practice, to give me the best opportunity to live my life to as full an extent as possible.
Find and Work With Medical Professionals That You Trust – I have been truly blessed in this regard.  Although my disease impacts my heart, I have never been frightened about any procedure that I have been asked to undertake, or my ability to live a normal life in spite of what has happened.  My doctors and I have always had an open dialogue.  I have not been shy about asking them to explain to me anything I did not understand about my condition, and at the same time they have been open to explaining exactly why they were approaching my treatment as they were.  If I did not have that confidence, I absolutely would have looked to search for doctors that would have given me that comfort.
Realize That Sacrifices You May Need To Make For Your Health Are Ones You Are Making To Live As Long As You Can – A heart patient needs to limit their salt intake.  Therefore, I learned not to season my food with any additional salt, (especially, when eating out).  My condition requires me to take a number of medications.  Alcohol and prescription medicines don't mix well.  As such, other than an occasional sip of wine, I consume non-alcoholic beverages, even in social situations.  In my case, I never did smoke.  However, if I had, that would have stopped immediately, since that was another thing not to do.  The point is, while you may feel deprived, especially when you see others able to do what you should not, you are helping yourself to have the ability to live your life to your fullest.
Take Your Medications As Prescribed – I am a person of routine.  I tend to do the same routines each day, and that includes the time of days I take my required medications.  However, if I'm out of routine such as when traveling, I will make sure to continue to find a way to take my medications as prescribed.   In my case my medications help control my cholesterol and blood pressure levels while also providing protection against blood clots.  Skipping medications is just not an option I will accept for myself.
Check Those Labels – I will be the first to admit, my diet will not win any awards as to what would be described as a heart healthy diet.  Frankly, I'm a fussy eater who does not like a number of foods.  However, what I will do to compensate is two things.  First, I'll just eat more of the items I do like which are good for my condition.  While this may lack in variety, it at least gives me the comfort of knowing that which I am eating is better for me.  My diet requires me to limit my fat intake.  Checking the labels on food and focusing on fat free or reduced fat products helps me stay on track.  If all else fails, I will eat items in moderation.  And, when someone such as my spouse offers or encourages me to try something that is healthy for me, (and if I've never tried it before), I will from time to time give it a taste.  I've actually found a number of vegetables and some fish over the years that I found that I did like, after previously avoiding them.
Get Some Exercise – This too was an item of resistance on my part, until the last 3 years.  At that time, I met my current wife who is very much into caring for her fitness.  Our early dates involved taking long walks and just talking and getting to know each other.  I realized if the relationship was going to get anywhere, I was either going to have to continue walking or possibly lose out on her company.  Among the things I found was, that I actually enjoyed walking.  As time went by, even when I was alone, if the opportunity presented itself to walk to get something done, I would do so.   When I moved from my residence into the one where my wife lived, my increased exercise continued just do to the layout of the home.  The townhouse had a downstairs, upstairs and basement.  To get things accomplished, going up and down the stairs frequently became a regular part of my life.  (My former home was mainly on one level).  The point is, at 55 years of age, I actually feel healthier than I did at most times over the past several years.
These are the items which have worked, and continue to work for me.  You may find yourself blessed as one who does not have to face any ailments in their life.  And, taking on these steps even before something was to occur is also wise to consider.  However, if something was to occur, you do have the choice on how you choose both to accept your illness and live your life while controlling it the best you and your medical team can.
For those of you who have shared similar experiences, what are some of the suggestions you can offer that have helped you move forward with your life, in spite of facing some of the health and aging issues which may occur to you at midlife?