The Sunshine You Bring to Others Ultimately Shines On You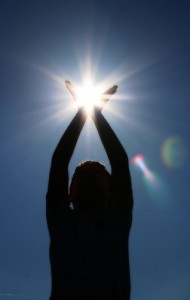 As the calendar turns to April, we begin moving into the season of spring and maybe finally saying goodbye to the cold weather that has plagued most of us this past winter.  Our quote featured for the month of April also takes on some of the characteristics of the new season that is dawning.  It was first penned by 19th century Scottish author and playwright Sir James M. Barrie.  The most famous of Barrie's works was the legendary story of Peter Pan, about the boy who never grew up, which lives on with children even today.  While this quote is not from that work, its sentiment is certainly one that could very well be.  The quote reads as follows: "Those who bring sunshine to the lives of others cannot keep it from themselves."
Many thoughts ran through my mind when first seeing this quote.  It is certainly an upbeat sentiment.  The focus is on one's giving of themselves to others.  Those of you who have visited the Absolute Transitions website before know how much I am a proponent of the concepts of Energy Leadership.  As one's energy level reaches the higher levels of the spectrum, the focus on living life in either service of others or in harmony with others increases.  When focused on bringing happiness to others and not being preoccupied with only succeeding themselves, stress and anxiety lessen, and one just enjoys the experiences in their life for the sheer pleasure they bring by merely participating in them.  The sentiments in our April quote very easily reflect the benefits described in the Energy Leadership concepts.
The quote is also one about attitude. Each individual ultimately has the choice inside themselves as to the attitude they choose to take on in experiencing the highs and lows of their life.  Yes, it is easy to be happy and energetic when things are going well.  However, when there are low points in your life, what are your reactions?  Certainly you may initially feel frustration and despair.  Overwhelm may also set in.  Reactions such as these and others like them are very normal.  Once assessing your situation, do you then prepare yourself to move forward?  Do you take accountability for the next steps that you want to take place to move to a better sense of being?  Or do you blame others for your problems?   Do you lose hope and feel there is no way to overcome what is troubling you in your life?  Our April quote begins to provide you a glimpse of a first step you may consider taking in helping to move your own life forward.
This past week, as part of the certification process for a training in which I am taking part, I had the opportunity to sit in twice on sessions that were being led by a career counselor with job search candidates.  Each individual in the group is conducting their own job search process.  However, one of the immediate dynamics that struck me about both groups I witnessed was the pleasure each participant received in helping other members of the group in their search.  There was a willingness to offer leads and suggestions from one job seeker to another.  Those that had been in the search process longer welcomed in new comers with suggestions of steps they might find beneficial using in conducting their search.  Group members that had been together over the course of past meetings had obviously bonded in their time together, which helped not only the spirits of their fellow job seekers, but of each individual participant themselves.  The attitudes of each of the individuals was that they were each part of a process that was going to get each participant to their ultimate goal of landing the position that was right for them in the next stage of their career development.  The strength gained in working their individual situations through with each other helped the entire group move forward as a whole.
Think about what has been keeping you down lately.  It may be a job search.  It could be a health issue you or a family member is facing.  Possibly it is moving to a new location, or having someone who you are close to move away from where you are.  Whatever the situation, while there is merit in thinking things through by yourself as to how you may want to address your issues, ultimately make yourself ready to open yourself up to others.  Don't look just to receive assistance from those around you, but determine what you yourself have to offer to those who need your help.  There may be times when you may appear to be giving more than you are physically receiving in return.  However, don't discount the emotional benefits you are receiving in the giving you are providing.  And, don't be surprised when you actually do receive what you were seeking when you least expect it to happen.  It's one of the benefits that can happen when you change your attitude to one of bringing some sunshine into the lives of others.