The Steps You Take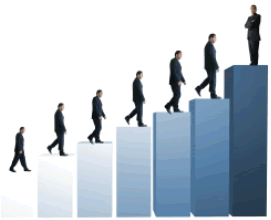 Recently I was speaking with a long time friend about what I anticipate coming up for me in the next few weeks.  Due to a number of steps I have taken over the last several months, I am beginning to see activity increasing for my business.  While I found the increased activity very gratifying, I must admit that a sense of overwhelm can creep into ones thoughts when it does occur.  While some of what has emerged is already clearly evident to me, it is those unknown items that are still to become part of one's life which can get a person to thinking.
After some reflection my friend pointed out to me that what was happening was a natural evolution of everything I've worked toward in terms of my coaching studies and practice over the last two and a half years.  She noted that I was not an individual who leaves things to chance.  Each step I have taken in terms of my training, organizations with which I have become involved, the methods I use to communicate with potential clients and recent studies and certification which I am pursuing, have been carefully thought out and not gone into lightly.  That approach in turn would serve me well as I went forward, particularly in terms of addressing any concerns around being overwhelmed, since it was one which was carefully aimed and measured to meet my commitments and responsibilities and at the same time do so in a manner that matched how I wanted to live my life.
There has much I have written in this blog since starting it in October of 2010 dealing with the process of change.  A blog that I published on January 19, 2011 spoke of comparing the cycle of change to a game of cards.  During a card game there are four distinct cycles.  Those cycles are the shuffle, dealing the cards, playing the hand and tossing the cards in when the hand is done.  The planning and the steps I have taken over the last couple of years have very much been part of a shuffle stage.  There was a lot of taking stock, reviewing what was important to me in terms of how I wanted to develop my business and deciding which steps to take.
However, now the deal stage of the game is emerging.  In the deal stage action truly begins.  Portions of the plan are implemented.  The tendency is there to do things either one step at a time or certainly in only a few manageable steps at a time.  Trust tends to grow as one makes progress through this stage.  The more success one perceives having, the more they are willing to take on to make things happen.  Deal is a very exciting and optimistic stage, although there is always that sense of fear you may take an inaccurate step along the way.
While certainly at this point I do not know how the new steps in the development of my business are going to completely turn out, I have a great deal of anticipation in seeing how they do.  For those of you who are in the process of moving forward with significant transitions in your life, how do you feel about those changes?  I would love to hear from you and share experiences.  You can reach me at tony@absolutetransitions.com and I would love to exchange correspondence with you.
If you do you're planning well, take steps that make sense toward where you are looking to get and continue to respond to the answers you get back, (whether they're given to you verbally or by assessing the progress you are making toward your goal) you will eventually start reaching a point where your dreams start coming to fruition.  Admittedly, that is both a joyous and somewhat anxious time.  However, if the steps you have taken have allowed you to do something you really want or to live your life in a way that matches to your dreams and values, it is well worth the effort.  You will be prepared to accept what emerges from your life at this point because you have put in the forethought to do things the way that work best for you.