The People You Meet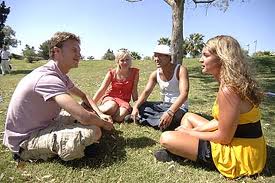 From a career perspective, my life has changed significantly in the last few years.  After a long time career with one corporation, I have ventured out on my own into my own business.  When you are with one particular company a long time, many of those with who you interact with  have been people you have known for years.  Even when new people become a part of your work life, often times you have been with the company or your department so long, you feel very comfortable when others become part of the mix, while the newcomers are the ones who are learning their way into the company's culture.
Anyone who has ventured into a small business or a solo proprietorship ultimately hears the message about a need to network with others to help promote and grow their business.  I was no different in that regard.  I think back to some of my early networking meetings, or even mere conversations with those that I know where I attempted to describe what I did as part of my new profession.  Those were very awkward times for me.  I felt everyone that I met had been in business for themselves or in small based businesses for a long time and therefore would never respect what I was looking to do.  Conversation was so stilted, as I worried was I saying the right things or the wrong things in promoting myself or my business.  Every conversation appeared to be robotic and one where either I was trying to sell my wares, or being wary that the other person was trying to sell me something.
In recent months that has all changed for me.  It actually first started via written communication as I began expressing myself through my twice weekly blog postings.  Additional conversations began to take place in complimentary sessions that I offered.  I became active in my local coaches association, actually taking on leadership roles and being active in chapter activities.  Others enjoyed hearing what I had to say.  Some were kind enough to send encouraging comments about the blog postings.  Fellow coaches would share with me some of what they were experiencing as they were looking to grow their businesses and meet the needs of their clients.  I began seeing opportunities where I might know someone who had a specialty which might help out another person I knew.  If they were both willing, I was more than happy to put them in contact with each other.
When I began to conduct the interactions with the people I met as conversations where I looked to get to know them, and at the same time allowed them to get to know me, the idea of meeting new people did not seem all that intimidating any longer.  It struck me when I got to know an individual more deeply and on a personal level how we shared aspects of our lives that were very much in common.  They truly were interested in what I was learning and what I may be able to offer in terms of my services.  There may not be someone they knew at the moment who could use them, but, they certainly were in a better position to explain what it was that I had the ability to do for them or someone they knew.
The number of people I know in my life has grown substantially.  Some are developing into very solid connections in terms of my new activities.  I still have very special people in my life from before my career change who will be lifelong friends, but now I'm able to share with them a different side of my life.  Most of all what had become a painful activity because I wasn't completely confident in myself, has become a part of my life I enjoy doing on a regular basis.  I get energized meeting new people and sharing their ideas and their stories and seeing where we may be able to help each other move our respective ventures forward.
I've met some very special people these last two to three years.  More so, I know that I will continue to do so in my future.  The coaching profession of which I am a part is a very people oriented way of life.  It is blessed with a number of individuals with different backgrounds and beliefs, but the common bond is they really look to help others.  That same feeling also expands when I think of the connections I am making with the many small business owners I meet.  The ones with whom I truly connect share that passion of offering a service that will be of benefit to their clients when they need it.  Many times those services are not needed on an everyday basis, but when a crisis hits in one's life, it is often a service an individual is glad they have.  Again, the common bond we appear to have with each other and for our clients is one of caring.
It is very likely if there are items that you are seeking to accomplish in life that it is difficult to get everyone of them completed on your own.  You may need the skill set of another to reach your goal.  Or there is a service you need performed, yet don't know who can provide it.  Unless you make yourself open to sharing who you are, what you are about and what you are seeking in your life, you make it difficult for others to be able to help you.
When you seek something from another, remember these basic principles that will help to develop any worthwhile connection in your life.  Don't just seek help, service or advice, but also be willing to offer it. Relax and be yourself, so another gets to know who you are and what you have to offer.  Realize that any relationship that develops will take time, and that it likely will take several interactions to get to know each other.  Above all, remember that ultimately you will need others in your life whether it is for the service that they offer, or to be the recipient of one that you may offer.  That will not happen unless they get to become one of the people that you meet in your life who comes to know and respect you for the person you truly are.