The Next Step May Take Some Time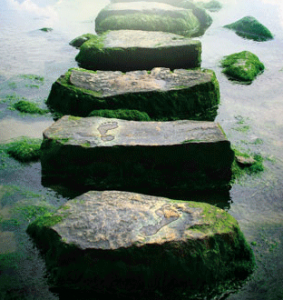 When a person stops having something being a part of their life after having either done if for many years, or experiencing it as a regular part of their existence, it is not easy to move onto what's next.  It may be the athlete who has performed at a high level in their sport, from the sandlot years, through high school and possibly college and onto a professional career.  Or it could be the couple who has been married happily for a long time and then one is left as the other passes away.  Often the change can be career related where a person has worked at a particular profession for 30 years or more (I know this is happening less frequently, but there are still people who are experiencing this), and all of a sudden no longer has that as part of their life.
What to do next in life can be difficult.  When we have done something for a long time there are likely aspects of it we have enjoyed very much.  When those items are no longer a part of our existence, on a regular basis, there is often a void to be filled.
I've certainly in my life experienced the change in career and loss of a long time spouse.  My present wife is herself currently facing a similar situation having left her teaching position which she held for nearly 35 years.  From my own experiences and observing my spouse's current transition, a number of thoughts come to mind that I believe I have observed which help to make the change in situation one faces easier with which to deal.
One thing I've learned is no matter what the longtime experience you lived, whether you said or thought that you loved it or you hated it, it was neither completely all good or all bad.  For example in a career related change, you may have disliked getting up in the morning, the administrative work that your job required or the office politics.  On the other hand you may have loved the interaction and development of your staff, the sense of accomplishment from completing projects or the social life aspects that your work environment afforded.  Those that begin making a successful transition are those that quickly realize the aspects they enjoyed of the situation they are leaving behind and find appropriate substitutes to fill those positive feeling needs.
On the complete opposite end of the spectrum, not having the continual aspect of that item which was a major part of your life be there on a regular basis, often opens you up to new experiences or ways of living your life.  For example, you may now find you can sleep later than you had previously.  Hobbies or interests that you enjoyed, but for which you had limited time, you may now be able to partake in on a far more frequent basis.  Or new interests may emerge as you are less harried and have time to explore the world around you.  Therefore, a second aspect of a successful transition I find happens when one is willing to experience their new found freedom on a day to day basis and determine which items they want to incorporate on a more frequent basis, and which they may want to phase out or drop from their life.  The key is a willingness to explore new possibilities.
A third item I have observed is a chance to either more firmly establish or build on the relationships in ones life.   For example, this may now be a time to spend more time with an elderly parent or friend and enjoy them while you still have them with you.  Or, it may mean making new friends as you join organizations where people share common interests as you.  There may now be more time to attend the activities of your children or grandchildren, where in the past time commitments forced you to compromise those efforts.  So, item number three of a successful transition is to make the most of the relationships that are in your life and revel in the fact that you now have an opportunity to truly enjoy them on a more sustained level.
The final reality I have seen is those who move onto the next stage successfully take advantage of the time they are given to make that transition and don't rush into any decisions hastily.  They'll take the time to think through both the benefits and costs to moving onto new ventures and measure that back against the other three factors previously mentioned.  There is a realization, especially if they have planned well for their move onto a new time in their life, that they're not pressured into having to make any immediate decisions.  (If the change has come upon them suddenly, and they have not given any thought to a "what's next?" scenario, a lack of pressure may not exist, but this is as much from poor or non-existent planning as opposed to the change that has occurred itself).  There is also a quiet confidence that the right next step will emerge as long as they stay open and aware to what is happening around them and being prepared to move forward and embrace that step when they're ready, and not before.  Therefore, the final item is only moving onto that next step in your life when you are ready for it.  It's no one else's business if you choose to make that step several months or even years down the road, if you are enjoying your life for what it is, and not taking advantage of others.
Yes, when something has been part of your life for a long time, it can be difficult to move onto what is next.  However, those who are able to do so the best realize it is just a new phase of life to experience, enjoy and take advantage of as they move forward on their life's journey.