The Journey to Achieving Your Goal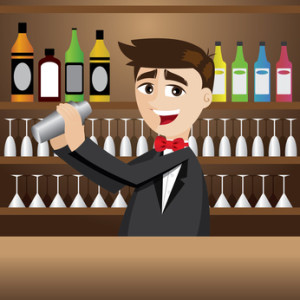 I remember watching an episode of the old Jackie Gleason variety show many years ago.  In one skit Gleason was playing a character named "Joe the Bartender."  Bartenders are well known for being a listening ear to their customers.  In each episode, Joe would answer a letter for advice from a patron.  In this one episode, the letter asked Joe "Why is it that when you are looking for something, you find it in the last place you look?"  Joe read the letter, gave it some thought and answered the question "The reason when you are looking for something you find it in the last place you look, is that once you find it you aren't looking for it anymore."
While Joe's simplistic advice does make a point, there is a down side to it.  I often see this down side in the job searchers that I coach.  They measure success in their job search by one criteria and one criteria only.  That criteria is "have they yet found a job."  While that may be the ultimate goal, (which actually may be not only finding a job, but it being a job that you enjoy, are good at and which makes the best use of your talents), when one puts all their happiness about their search on that ultimate result, they're setting themselves up for a lot of disappointment along the way.
A search for anything you want in life, (a job, gaining a degree, perhaps a special relationship, a new home, etc.), is filled with highs and lows along the way to achieving it.  The more complicated the goal, the more it has dependency on others to respond the way you would like to make it happen, the longer it is often going to take to achieve.  Worthwhile goals mean setting up for the long haul.  That can mean contingency planning along the way.  And, they often mean that a number of interim goals (whether you identify them as such or not) will need to be achieved in order for you to land at that destination that has you saying, "I have reached what it is I set out to achieve."
Do you find yourself often frustrated with the progress you are making in your life?  Are you judging yourself on "final results" as opposed to benchmarks you are achieving along the way?  Yes, you will have your down times, your disappointments and your rejections as part of the journey.  Sometimes you will need the encouragement of an accountability partner to help get you moving again.  Ultimately, it may require a change of perspective on the things that are happening currently in your life.  For example, if you are not in paid employment for that position you seek, the pro-bono work you may be doing at the moment is providing benefits and returns to those you are helping.  As such it has significant value at that moment.
One last bit of advice.  If you do reach that point like the letter writer to "Joe the Bartender," be conscious that while the current search may have ended, a new one is likely on the way.  While we believe that once we achieve what we are searching for at the moment, we will be satisfied with what we have, there will be other searches coming up on the way.  Enjoying the accomplishments on the path to your goals, no matter how big or small, will provide you the energy you need to continue to pursue and achieve what you truly desire.