Take the Consultant Approach to Your Job Interviews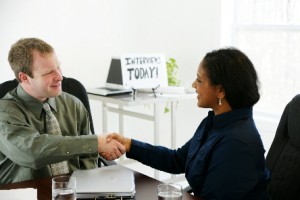 In this difficult job market, one of the trends that continues to happen more and more is for companies that do have job openings to bring on people as contractors or temporaries as opposed to full-time employees.  While this trend has been going on for quite awhile now, for those who have been long time employees at one company and now find themselves back in the job market, this change can be difficult to accept.  However, from a company perspective where they are competing in a global economy that puts an ever larger premium on cost containment, this approach allows them to bring in experienced people to work on projects they need to get done, without the long term commitment of bringing in people and putting them permanently on staff.  It also addresses the issue of where existing employees in the company are likely taking on additional duties that were performed by multiple employees, but now no longer have time to focus on special projects.
While many would prefer permanent employment, even those who are employees don't have assurances any longer that their jobs are there for as long as they want them.  As such, in many ways, all of us who are working are temporaries within our working situation whatever it may be.  That is why it is best for anyone who is in job search, whether they are seeking a permanent position or not, to interview as if they were a consultant.  This advice, which has been advocated in the teachings of the Five O'Clock Club's career coaching for many years, continues not only to be sound but realistic in one making it through today's job market.
How does a consultant interview? First off, they go into the interview with a lot of questions.  As opposed to sitting back and waiting for the all the hiring company's questions and answering those and hoping they have provided "the right answers," a consultant is as much seeking information from the hiring company as providing it.  The consultant is doing this so they learn the issues of the company and are in the best position to offer solutions as to how they may be able to help solve them.  A consultant takes notes during their interview with the hiring company.  They are making sure they are taking away as much information as they are giving, so afterwards they can evaluate properly all dynamics of the situation.  Who are the key players in the area where they are looking to be hired?  How do they interact with each other?  How are their needs different, so that the solutions provided will meet each of those individual respective needs?
Consultants do as much preparation as possible before the interview.  They look to learn as much as they can about the company and the area of the company doing the hiring as they can.  Some of that learning can happen by reviewing the company's website.  Additional learning can be gathered by tapping into networking partners that they have who may work for the company and can fill them in on the issues facing the company.  They may also talk to industry insiders to learn what the outside word is in terms of the issues facing the company that they are now looking to offer their services.  In performing this research they are looking to lessen the chances of being blindsided by not knowing the company's problems.  Additionally, it is impressive to the company doing the hiring to know the one seeking the position has taken the time to learn what their organization is about and currently facing.
One additional part of the interview process that a consultant is also good at is follow-up.  Once having done the interview, and gaining an assessment of the problems at hand, they will always follow up with the hiring company with a proposal as to how to address their issues.  They will not just sit back and rely on the company to call them.  They in turn realize the ball is in their court to pursue the opportunity and look to turn it into work for themselves.  This may appear to be pushy on the consultant's part.  However, if they are truly able to offer a solution to the needs of the one doing the hiring, the follow up they are providing is actually welcomed and not looked at as an intrusion.
Interviewing as a consultant makes you an active part of the interviewing process.  The interview as designed has always been meant to be an exchange of information.  It is not a one way street where one side does all the questioning, the other side provides answers, and then the one who provides the answers sits back and waits hoping they were liked by the one doing the questioning.  That format may work in a beauty pageant.  However, the hiring process is not a beauty pageant.  It is a business process with a lot at stake for both the one doing the hiring and the one who is looking to be hired.  As such, the consultant model of interviewing treats it as it always has meant to be treated.  It is an exchange of ideas and proposals between two parties looking to form a relationship that is going to work for the benefit of both of them.  Remember that as you prepare for that next job interview you have coming up.