Showing Concern for Others Helps in Accepting Unexpected Change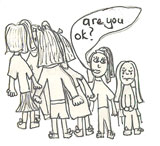 Sometimes the circumstances that lead to our accepting change are not of our own choosing but are thrust upon us.   We're let go from a job as part of a company action.  A natural disaster causes damage to our home forcing us to temporarily or permanently relocate.  Or a family member or friend passes on long before we expected them, surprising us about how fleeting life can be.
The situations I note above and others like them can stop us in our tracks when they occur.  Some never move forward from them.  Others do move forward but hold onto the anger and bitterness for a long time.   And, then there are others who do move on and look to turn a negative experience into a positive for themselves, but most importantly for those around them who are impacted by what has occurred.
I've been reminded about this the last few days as I take some time to help prepare for a charity dinner with which I have been involved the last seven years.  In 2004, a high school classmate of mine lost his battle to Amyotrophic Lateral Sclerosis (ALS) or what has been referred to as Lou Gehrig's disease.  When he passed, Robert was 49 years old and left behind a wife and a nine year old daughter.  His death saddened an entire community, as he was an individual who was both so full of life and who was so giving to everyone he met.
Another of my high school classmates happens to be a major league umpire.  His name is Phil.  He and Robert were very close friends.  During the time that Robert suffered from his illness, Phil visited Robert at his home continually.  Phil worked with the local ALS Chapter in Robert's community to both understand the disease and to determine what things could be done to make Robert's life easier.  When Phil learned of a computer that would allow Robert to communicate through eye movement, he sponsored a raffle to raise money to obtain the computer.  Phil learned Robert's biggest concern was his family going forward and in particular the education of his daughter.   It was important to Robert that be addressed.  Phil promised Robert that would be something he would not have to worry about, and that he personally would take accountability to ensure it would happen.
After Robert passed Phil came up with an idea to have a charity dinner each year in January, (Robert's birthday month), to raise funds for a college fund for Robert's daughter.  Phil knew through his contacts in Major League Baseball he would be able to obtain sports memorabilia to auction at the dinner.  Additionally, Phil knew of the giving hearts of the people in Robert and his hometown.  From its very first year the annual dinner has been a huge success and is looked forward to every year by those who attend.
On February 10, 2011, I will be hosting a free teleseminar entitled "The Seven Energetic Perspectives on Viewing Change".   One of the perspectives is based on focusing your energy on what you can do to help others.  Simply stated it says, "By making and accepting this change, things will become better for those around me".  When Robert was first diagnosed and eventually passed there was obviously much sadness and angst.  While certainly support and sympathy would have been provided to Robert's family, the tendency is once the tragedy has occurred for people to walk away and move on with their life.  Phil's choice was to not make that happen in this case.  His way of accepting what was happening to his friend was to make the situation better for his friend's wife and daughter.  It helped to both comfort their grief, but also his own, since he knew Robert of anyone would be the first to have offered comparable support for another who had been struck down by an unfortunate occurrence in their life.
While each of us may not be in a position to respond as Phil did, we certainly each have choices to respond to change that occurs in our life in a number of different ways.   I highly encourage you to sign up for the February 10th free teleseminar at 8 P.M. (EST).   On the call I will introduce you to 7 ways you can choose to respond to any change which comes into your life.  We'll talk about the pros and cons of each choice for you as an individual.  In addition, we will see how while you may be at one energetic choice you have the ability to move yourself to another choice if it serves you better.  As with all our offerings at Absolute Transitions (www.absolutetransitions.com) this offering, as have others, will help increase your awareness of the choices open to you.
Therefore, I look forward to your signing up on the Absolute Transitions website for the call.  If you would like further details on what I will be presenting, you can e-mail me at tony@absolutetransitions.com.  I look forward to sharing this valuable material with you on February 10th.