Quality is Impacted by the Little Things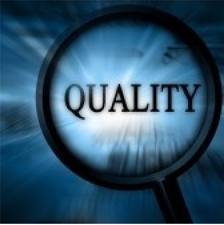 As the calendar turns to the month of June, our theme for this month moves to Quality. The quote supporting the theme was one of many that were spoken by John Wooden, legendary Hall of Fame basketball coach of the UCLA Bruins.  Coach Wooden passed from us almost a year ago at 99 years of age.  His accomplishments of 10 NCAA men's basketball championships, (7 of which were consecutively), will likely never be broken.
Anytime I had the opportunity to see coach Wooden interviewed on television or read an article about him, I was impressed with his soft stated but firm conviction of the principles which he valued.  Because of his team's extraordinary success, he was often asked to convey any secrets that others might learn from him.  Coach Wooden was a strong believer in detailed preparation for his teams.  This month's quote reflects that fact.  It reads: "It's the little details that are vital.  Little things make big things happen."
Coach Wooden's teams, particularly in the championship years, had some of the best basketball talent ever assembled.  However, I always remember when watching them play how they were an extension of him and his ethic.  They were extremely disciplined in their execution.  As a unit, each member of the team knew his place and his role in making the team successful.  On those occasions when things did not go well for them, Coach Wooden would remain calm, not deviate from his plan for how he wanted them to play, and look to instruct and guide them to get them back on course.
Within our own lives there are important things that each of us want to accomplish.  And, while when I first read the quote I must admit that there was a part of me which did have a concern about being overly concerned about executing every little detail.  However, as long as one is not paralyzed with details to the point of not moving forward at all, making sure key steps are done well is a sure recipe to increase the chances of accomplishing what we look to achieve.
Coach Wooden's success at UCLA is well known.  What is not always so easily remembered is that he was coaching at the school for 16 years before his team's won their first NCAA championship.  After that they won their 10 championships in the next 12 seasons.  Even for him the big things that happened took time before they truly developed to the top of their profession.  That's a good lesson for all of us to realize when we take up new ventures and become easily discouraged.  Our results may not always quickly reach the level of quality we desire.  However, if we truly believe and stick to our convictions and plans, greater success is more likely to come.
Some closing thoughts on this quote, and coach Wooden.  While he certainly was proud of the accomplishments of his teams on the basketball court, he was often more proud of his players for the men they grew into off the court.  His players in turn always spoke highly of him and the influence he had on their lives.  While detail, discipline and perseverance helped Coach Wooden and his teams reach their goals, they were not done at a price where the individual's growth and self worth were forgotten.   That part of the equation is equally memorable in that it displays not only quality in the results achieved but in the methods and processes used to achieve them.