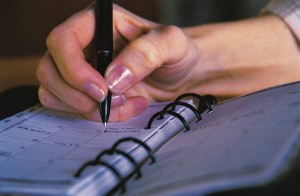 Although I've often heard of the value of preparation, it is not always easy to motivate oneself to prepare for a future task at hand.  Currently, I am in the process of preparing two different oral presentations.  One is within a week while the other is within three weeks.  While I know the subject matter well, and have a general idea of what it is I want to present, I find myself sidetracked when I look to sit down and work on the task at hand.  Some of the distractions are also related to the goals I want to achieve.  Others frankly are in the area of items which can either wait for a later date or time to be addressed, or in the category of wasting my time on idle downtime activities.
Why is it so hard sometimes to focus on the task at hand, even when you realize that the payoff for doing the task well is of significant value to you?  In giving that some thought a few reasons popped to my mind:
I'm concerned about the outcome and so putting the start of the task off delays the inevitability of reaching that outcome.
The tasks involved will take a good deal of time and concentration on my part and I'm not inspired to put in the effort at this point.
I've caught myself up in the old trap of doing a few less important items on my to do list and getting those done and fooling myself that I'm making great progress while the most important task sits on the list staring back at me as not being completed.
I thought further, and began to think of the value complete preparation toward the presentations I will be giving will provide to me.  As I examined this further, I realized I had quite a bit to gain:
While I know the topics I am presenting well, it will still provide me an opportunity to get to know them even better, as I plan how I outline what I want to say, and get it across to my audience.
It will help increase my confidence and skill in conveying my knowledge of a topic that is of great interest to many people and which will show me to be well versed on how to address the issues in terms of that topic area.
It will help me to attract potential clients to my business.
Once having completed the preparation for the presentations, the topic material can be used again or modified into other presentations that will also continue to help increase my stature as an expert in my field and a go to person for those needing services in that discipline.
Yes, preparation takes time.  It can take you away from the activities you want to be doing at the moment that you consider more relaxing or fun.  Frankly, it can be a lot of work.  However, when the payoff in doing it well helps you in leading toward your achievement of a goal that is of great meaning to you, its importance can not be over emphasized.  One of the greatest factors I am learning in my current career coaching studies for example is that those job seekers who put in the effort up front, to do assessment of where they want to pursue their next career opportunity, research the companies they want to target, learn about the needs of those companies and the hiring managers with whom they will be talking and who prepare meaningful questions for their interviews, find positions in far less time than those who just update their resume', put it out there and wait for others to come to them.
If what you are looking to achieve really matters to you, as arduous as it may be, you will need to prepare for it to be the best that you want it to be.  Maybe, you choose to schedule the preparation so that you break up its completion into manageable parts which keep you from focusing on it all at once.  Or perhaps you find a time of day, or place where you can go to prepare that puts you in the most comfortable state of mind to address the task at hand.  However, to not give preparation the time it warrants, will only mean that you will not be ready to be your best when the time comes to be the best you  need to be.  So, let me say my farewells to you now.  There's some preparation I need to complete so I can be ready to provide you the best teachings I can at some future date when we meet.