Moving Forward From Rejection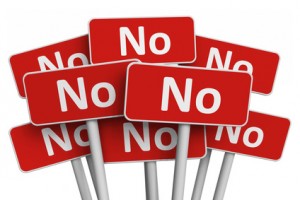 Over the last three and a half years, I have been very close to those in job search transition as part of my position as a Career and Job Search Coach/Consultant.  And, while the media and some of our elected officials often paint some very unflattering pictures of those looking for work, I have come to learn that those who I meet are very special people.  When you are in search, you ultimately are in the business of "selling yourself".  And, while the term "selling" can elicit a negative perception in its own right, when we are looking to connect with other human beings and convince them we are the one right for their job opening or, have the right skill sets  that will meet their needs, we face one of the most personal fears a human being continually faces. That is the fear of rejection.
No one likes to be rejected. Even when we are able to convince ourselves it is some other reason that we were turned down, a part of the individual will take rejection personally.  That is an understandable human reaction.  When we put ourselves out there, only to find that our services are not desired, or that the other person has decided to go with someone else, (different applicant, another vendor, even a different person to date or life partner), it is natural that we bring it back to "what is wrong with us."
However, unless we choose to stay stuck on the rejection and immobilize ourselves, we must find a way to go on.  Some may ask, but how?  While not easy, here are some suggestions that I have learned over the time I have been a coaching professional.
My studies with the Five O'Clock Club job search transition process out and out say that rejection letters "don't count."  While that may sound flippant, the process also says to help minimize the impact of rejection that one should be looking to make as many connections as possible.  Therefore, don't be applying just for the one dream job you see in the posting, or you learn about from a networking connection, but look to as many openings as possible that are good matches for your qualifications.  Not finding many matches for your qualifications?  Then seek out to speak to as many individuals in the areas you are interested to learn how you can improve those qualifications and display you have talents that may readily not be available from your present resume' or background.  So many stall the search at the first couple of rejections and make a blanket statement about their fate.  The one who pushes through initial rejection comes back with a far harder push in looking to move forward.
Another mindset from one of the regular job search support groups I attend is that "for each no you receive you are one step closer to a yes." Every "no" is a learning experience. Perhaps one needs more interviewing practice. Or, their qualifications were seen as strong, but they were lacking one ingredient that the selected candidate had. Often decisions are made that have nothing to do with the candidate themselves, (budgets get cut, the company decided to go in a different direction, management can't make a decision when to bring candidates on board).  All these things happen. And, while you may feel you are being rejected, you are more truly the impacted party from a set of circumstances out of your control.
When rejection happens, (and it will, even to the most confident of people), take a bit of time to step back and regroup. Ideally, make it no longer than a day or two at best. Determine the positive steps you have taken to this point. Note what was said about you which is in your favor. Have a ready support circle of non-judgmental but open and honest resources you can speak to that can both give you the feedback you need and the encouragement to move forward, (usually this circle should be about 3 to 6 people who can identify with your current situation).
Rejection is never easy.  It will sting no matter how hard you attempt to minimize it. Moving forward from it and not letting it keep you stuck where you are however, is essential in living the life you are truly meant to live.