Those Obstacles to Change May Be Inside Yourself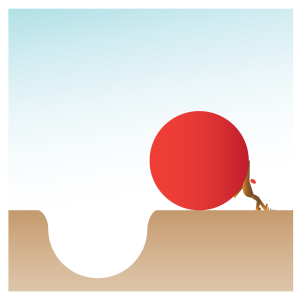 Admittedly it is not easy to make a change in your life.  A lot of what I read and hear from those at midlife facing a world that is not the same as the one in which they grew up point to numerous obstacles perceived to be outside of themselves that are impacting their ability to move forward.  Examples of this are age discrimination, the inability to learn new things, the lack of available jobs or lack of money to move forward.  I'm not saying that these do not exist in this world.  Obstacles outside of ourselves, or external energy blocks, can create stress and burden and keep us from moving forward to make the change we seek to make.
External energy blocks may for a time be out of our control to change.  Certainly, no one person is going to change the state of the world economy by themselves.  However, there is a significant part of the process of change and success that you control.  For many people there are four additional blocks, all known as internal energy blocks, that may be holding them back from experiencing the life they choose.  Even in the best of times, any one of these blocks within a person's life will limit their ability to make change and strive for the goals they desire.
What are these four internal energy blocks and how do they hold you back?  One is the limiting beliefs you hold inside of yourself about your world and the world around you.  A second are assumptions that you make as to what will happen in your world.  The third are your interpretations of the events that happen in your day to day existence.  The fourth and final one are those voices inside yourself that say to yourself that you are not good enough or don't have the ability to move to where you want to get.  This last one we'll give the name gremlins. Let's take a look at each of these inner blocks.
Limiting beliefs are basically learned from those around you or other "authorities" such as books, media, movies, etc.   You may also create the belief within yourself based on something that happened to you.   Examples of limiting beliefs in our history that have since been shown not to be true are that women can't be Chief Executive Officers of Fortune 500 companies, a human being can't run a mile in under 4 minutes or that a black man can't be President of the United States.  Of course, all of these have happened, and in the case of the first two examples, have happened several times since their first occurrence.  The point is a belief can only limit you if you let it.  Once evidence is provided to the contrary about the belief's existence or you modify your perception of the belief, it no longer can hold you back.  Those who "the first" or early pioneers in doing something that once was not thought possible all had to overcome limiting beliefs that others had set out there before them.
While limiting beliefs may be imposed on you by others, assumptions tend to become your belief because of something that has happened to you in the past or to those close around you.   Assumptions can detract from your creativity as they hinder your thoughts toward out of the box solutions and approaches.  Because assumptions often are based on situations you have experienced in the past, they tend to be more emotionally charged for one than a limiting belief.  As such, they are often harder of to let go.  However, once you can get past the question of "Just because it happened in the past, why must it happen again?" letting assumptions hold you back from new approaches or solutions to the changes you would like in your life is far less likely to happen.
Interpretations are based on opinions and viewpoints.  However, it is rare when any issue, even the most controversial ones, only have one way at which to look at them.  A person truly dedicated to facilitating change is generally open to the fact that there are always multiple ways to approach a given situation.  This comes in quite handy when the change you are looking to impact has happened as a result of a conflict in your life with others.  A good deal of the conflict that occurs in today's workforce between individuals from different generations is a classic example of where interpretations come into play as a deterrent to finding solutions to issues as opposed to working together to come up with an opportunity that works for all.  One of the best ways to overcome interpretations as an obstacle to change is to put oneself in the other person's shoes and look at an issue from their perspective.  It can be eye opening the perspectives which come to you using this approach.
The gremlin is often the most difficult of the change barriers.  It is that little voice inside of you that says to you that you are not good enough, or that its not worth the time or effort to make the change.  A gremlin within the person is a highly personal thing.  All people, even the ones that often appear the most confident have them and battle through them.  A key to getting past the gremlin is by coming face to face with it.  Often this can be done by drawing it out in front of you on a piece of paper or finding an inanimate object to represent it.  You may even want to give the gremlin a name, although it is recommended that the name not be the same as the name of someone you know.  By seeing the gremlin objectively, ultimately you will see it is only a part of who you are and not your entire identity.  When you get really comfortable confronting the gremlin you may even find that you look to turn around its source of energy that is dragging you down into a positive force of energy to move you forward.
While each of these barriers in and of themselves can require a great deal of time and effort in terms of overcoming, just being aware of their existence is a major first step.  As you become more and more committed to moving your life forward by making the changes that you desire, it is extremely likely that one or more of these barriers are currently holding you back if you have not made the progress you have wanted in your life to date.