Make Networking What You Want It to Be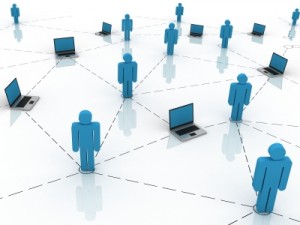 I don't know when I first heard the saying "It's not what you know, but who you know".  While this message as I first learned it was done from a negative point of view, (it implied that those qualified would often be bypassed on behalf of those who were unqualified due to the fact of whom they were connected), I've learned that networking is something that one needs to acknowledge, accept and adapt to as they continue through their journey in today's world.  The intention of this blog is not to provide you a guideline on the proper or best ways to network.  There are hundreds of books, articles, lectures, videos and classes provided by those far more qualified than I to speak on this subject to assist you.  And, I encourage my readers if improving their networking skills is something that they seek to do in their life, to indeed pursue the experts and the methods of learning this skill that most appeal to them.
My purpose with today's piece is to share some of my own feelings and things I have learned on this subject.  I can assure you as with most everything else that comes into my life, I am and will still be learning.  However, I'm inspired to share my thoughts at this point, because as I pointed out above, the need to acknowledge and accept networking as part of today's life cannot be escaped.  Whether you are in the middle of a job search, looking to promote a business or a product, get the word out on an event, get a recommendation on the effectiveness of a product or looking to connect with someone that may be an appropriate partner for you in a venture, the need to network is there for you.
For thirty years I worked as part of corporate America, in back office functions for a financial services company.  As such, items such as promoting products, meeting with complimentary businesses to build alliances to help share customers or even meeting other members of my profession from other companies was not common to me (or for others of similar background).  Additionally, the methods of networking were not as varied or in as wide a range of form as they are today.  A lot of advertising was in print ads or if one had the budget for it, radio or television.  Today, the internet and social media have made tremendous inroads into this process, to the point that to not be part of these environments is detrimental to large as well as small companies.  As was similar to my own experience, individuals worked far longer for the companies that employed them.  On the chance someone did look for a job, following up on want ads or working through an agency were common ways to pursue a new position.
As I left my coaching studies and ventured out on my own, it was reinforced in me by those already in small or solo ownership businesses that networking was part of the world that I had now entered.  It was definitely an awkward experience.  I often times felt like I was a teenager at my first high school dance, not knowing how to approach others or present myself.  It appeared that everyone had down the concept of exchanging business cards, (and comparing who had the best looking one).  However, much of what was said was lost.  Often the focus was on wanting to best or properly get out your own message so that one almost did not hear what the other person had to say.   Above all, everything I had ever learned in meeting other people, such as sharing who you are as a person and in turn learning about the other individual as a person appeared to have completely been forgotten.
As time has passed, while I would not say I'm completely where I want to be in terms of my networking skills, I sense myself getting better.  For one thing, I'm far better focused on how to present myself both as a person, what I offer and what I'm looking to provide with the services of my business.  I'm less concerned about the other individual judging me and my business, but in turn looking to get them to know me as a person and me in turn to get to know them.  I am a lot less focused on getting to know everyone in the room, but more determined to get to know those who may share similar interests, needs or pursuits.  My selectivity in terms of the networking events I choose to attend has changed.  For awhile, I felt that I was doomed if I did not attend every event that was available to me.
Additionally, I have come to realize that networking comes in many forms.  Early on my focus on networking was strictly of the in person variety.  I've come to learn that one is additionally able to reach out and meet people through online methods such as the social media sites, blog writing and posting of articles.  Since networking comes in so many forms and opportunities, I also have come to accept that no one networking event or process is the end of the world, and if a particularly networking experience does not go well on one occasion, there is always the opportunity for another one.
I also realize I still have a long way to go with the whole concept of networking and realize that I'm one of many who does.  Following up with contacts which whom I strike up a meaningful relationship is something I know I must improve.  Improving my pitch on who I am and what I am able to offer is a continually evolving process.  Gaining a sense of when an opportunity may be available for me and a networking partner to work on a project that may be beneficial to both of us is also an area to grow.
As I said in the beginning, networking and the need and ability to network, is an ever growing part of today's world.  Particularly as individuals work a shorter amount of time for one employer versus another, more people get into their own business ventures or have multiple career paths and contacts become more global, those who isolate themselves and wait for things to come to them, are leaving themselves at a disadvantage.  I believe most of all, I'm continuing to learn that the best networking is to use the methods and approaches that work best for you, which provide you the most comfort and at the same time move you forward in building meaningful relationships to promote who you are and what you are all about.  Remember, you have the choice to make your networking experiences what you want them to be.