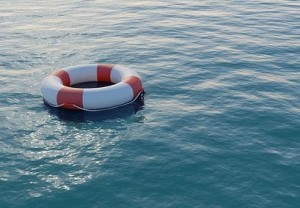 When you are part of a profession that looks to help guide and advise others, it is not always easy to avoid getting caught up in the issues someone else is facing.  I remember back to my coaching classes when we were cautioned to "not jump in the box" when working with a client in terms of helping them to move forward with their life.  I'm continually finding myself having to reinforce this lesson within myself as I continue to gain more knowledge in the area of how to work with clients as they make their way through the job search process.
Searching for a new job is never an easy proposition.  Today's economic situation makes it that much more difficult.  However, to truly be of assistance to their client, a career coach needs to distance themselves from the actual drama of the client's job search itself, and focus on guiding them toward considering the use of techniques that they may have not previously considered or heard of before.  The client's acceptance of suggestions to try different approaches can very often be met with a number of reasons of why an approach might not work, how they tried something like what was suggested already, to just not having the desire to put in the time or effort to what is being asked.
While it is not always easy to do, the more the one looking to help another can "emotionally detach" from the drama of the situation in front of them, the more likely an answer  that can move the process forward can be found.  In preparing to do this piece I was discussing it with my wife, who came up with an excellent analogy of the "not jumping in the box", response.  My wife said to me, what you are describing is how they often indicate how it is best to rescue a drowning person.  If you are emotionally caught up in the situation and try to save them yourselves by grabbing them and pulling them to safety, there is a risk that ultimately both of you may need help.  A better solution may be to throw them a rope or something to grab onto, and then pull them to safety.
It can often be the same thing when helping another with a solution to their problem.  The answer very well may be in putting suggestions out there for the person with the problem to grab onto.  It may be in demonstrating to them if possible, the way a potential solution may work.  Additionally, for the one making the suggestion it involves not being as focused on the outcome or the acceptance of their suggestion, as much as making the other aware of the advice and letting them make the choice of whether to accept or reject what is being offered.
Therefore, if your nature is to be there for others, to provide them guidance and share with them what you know, be cautious in how you provide that advice.  In a counseling or emotional support of another, it is never about you, it is always about them.  The one being give the support is the one with the issue.  They are the one who is stuck, frustrated or emotionally spent and is ultimately looking to move forward.  It is possible that the one in need of support is not ready to move forward right at this time, but needs time to process what they want to commit to as their next step.  The more you can observe what is going on "in the box" as opposed to jumping in yourself and getting caught up in the action, will provide you a far greater chance of providing those thoughts and suggestions to move the one you are looking to help onto the next steps to move themselves forward.