Job Search Requires a Complete Commitment on Your Part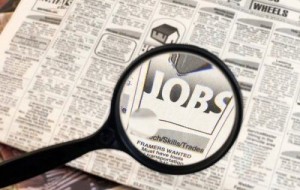 My blog posting from earlier this week focused on how one's attitude was a key in bringing in positive energy into their life to help move them forward.  Nowhere is that more true when one is in the middle of the job search process.  While there has been much written about the differences between the four generational groups in our society today (Traditionalists, Baby Boomers, Generation X and Generation Y), one thing they all face is a job market and employment search process unlike any other.  It is becoming rarer to find workers who have worked 20 or more years at the same place of employment.  Current research and data show the average individual will be part of four or five different careers in their life, and will hold about 12 to 13 positions.  That averages out to a new position once every 4 to 5 years.
While the ramifications of these changes could never be covered adequately in one blog posting, there are certainly a few thoughts I would ask you to begin considering.  Especially if you are a member of the Baby Boomer or Traditionalist generation, and have no desire to stop working, methods that may have served you well in the past in finding a new position will minimally need to be supplemented and in other cases approached completely different than those of the past.  However, for those who are willing to invest in themselves as part of the job search process, the rewards will be beneficial both now and for any future job search they were to conduct.
First if you are unemployed and looking for work, accept the fact that searching for a job is your full time occupation.  This means if you are conducting a complete job search you are spending on average 35 hours a week in job search activities.  Second, you need to begin targeting your next position.  There are three components to a target.  Those components consist of an industry, a type of job position, and a geographic area in which you are searching.  A fully active search has one targeting 200 positions at any one time.  Those positions may not all currently have openings, and if for example one of the companies in your geographic area have 10 of the positions you are seeking, then that's 10 positions in your count of 200.  Again, targeting is helping you to focus on the positions which you are seeking, not just the available openings.  If one believes they would be equally happy in a position if it was in one industry versus another, then they have two different targets.  When targets are below 200 positions that is a signal your search is too narrow.  When they are significantly above 200 positions, it means that the target is too broad, and may require sub-targets.  So, for example if your target has 400 to 500 possible positions, you likely will want to narrow your search to size of company, such as small and medium sized companies in one target search and large companies in another.
A third component of a complete job search in today's market is using all four methods for getting interviews available to you.  Many people are familiar with methods such as ads and recruiters or using the internet and posting their resume'.  However, only 20 percent of the positions ultimately filled occur through this search method.  Networking (which in this instance means being referred to by one of your contacts to someone whom you would want to talk to as part of your job search), and direct mailings which mean you yourself research the individuals you need to contact and write them letters directly to let them know of your job search, are two far more productive approaches.  An extension of the direct mailing technique is to target mail, where you pick out the individuals you really want to talk to, send them a mailing letting them know of your search and then following up with a phone call looking to set up a meeting to discuss your interest in their company.
While there are several more specifics on targeting and contacting to get interviews along with tips on resume' writing and interviewing in an intensive job search process that I will not be sharing in this posting, I would expect one who see by now that job search is a process which requires a great deal of persistence and dedication. As such, it is one which benefits the participant to not go alone.  Working with a small group of fellow job hunters under the guidance of a certified career coach is a boost to your job search for several reasons.  The others in your small group provide you feedback and support.  The coach may guide you to additional thought processes and approaches to your search.  You are sharing your search with others, and they in turn with you, showing you that you are not alone in the process.  Sharing may also help you to learn of leads from those that are taking part in the same process as yourself, (and you in turn may be able to help).
If as part of your midlife transition you have decided you are going to continue to work, whether it is by your own choice or your financial situation has dictated its necessity, the reality is that the way one searches for job positions in today's world has changed dramatically.   Even in a good economy, having a thorough job search strategy helps to put one in a better position for finding the job they seek and building the career path that is right for them.  In a bad economy, such as the one that the world is currently in, following a disciplined methodology becomes essential.  If you are suddenly in job search after many years of not having been, or if you have been it for a long period of time, consider examining the approaches you are taking and seeing what is working for you and what is not.  If you would like to discuss, you can always drop me a note at tony@absolutetransitions.com and I'd be happy to chat with you.