I'm Thankful for the Support I Receive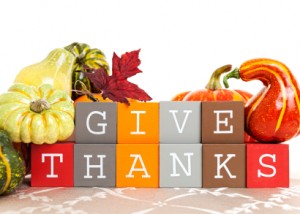 If you let yourself be taken up in the headlines of the newspaper, the news posts on the internet, or the television and radio news reports, you would begin to think no one has anything to be thankful for this year.  I must admit that I consider myself very fortunate.   As Thanksgiving 2011 approaches, I have a great number of things to be thankful for in my life.  Perhaps after I share my thoughts, it may inspire you to reexamine yours and to see just what things you may have that offset the things which you feel are lacking.
Absolutely at the top of the list is a loving wife who has supported me every step of the way through my journey into the world of coaching.  While we have been married a short time compared to a lot of other people, and came into our marriage both with established lives, my career change to the coaching discipline which has taken place parallel to our entire time knowing each other.  From the actual certification studies, to beginning to build a practice, to being an active participant in International Coach Federation activities for my local chapter in New Jersey, Carolina has been a source of encouragement every step of the way.   Sharing my life with her, while in turn me sharing her experiences helping to tutor adults in literacy and grammar school students with their studies, is definitely the thing I'm most thankful for in my life.
My move into a different profession has introduced me to a significant number of new colleagues and friends.  By definition, coaches are basically very giving and open people with their emotions.  As such, many of those I have come to call friends are very caring individuals who look to work with and support people from all different callings of life.  Additionally, in starting my own practice, I have come to know a good number of small business owners.  After years in a corporate environment, where all of my work friends basically worked for the same company with the same mission, I have come to learn how people in different professions offer their services to others.  I am also starting to meet a number of people who while not in the coaching profession, offer support to those of their peer group.  Whether it is those looking for work, mothers looking to get back into the workforce or start-up entrepreneurs looking to assist each other, the message I have learned is you never have to go anything along.  If you are willing to search hard enough you are usually going to find a group to help support you on your journey.  Often time you don't even have to go farther than your own home town, local library or religious support group to find such assistance.
I was blessed in 2011 to be introduced to the methodology of the Five O'Clock Club's career search and outplacement services.  That in turn allowed me to learn and be certified in a program that has become the basis of the coaching I use with the majority of my clients.  Given the number of people seeking work, not happy in their current employment, or who are underemployed and are looking for that next step that is right for them, I know that the knowledge I have gained and the services I can offer are of value to others.  At the same time, my previous certification in life coaching is still also a significant part of the person I am and how I look at what comes along in my life.  Therefore, even when working with clients on career based issues, ultimately there are always pieces which get back into life issues themselves and as such we're always looking for the answers on how they will manage those as they move forward on their journey.
Yes, I have a lot to be thankful for at Thanksgiving 2011.  Doing these weekly blog posts, the monthly newsletter I put out and the expanding potential to meet others through speaking engagements has also become a part of my life.  A little over a year ago a virtual assistant came into my life who set up the website on which these posts appear, and has tirelessly promoted that which I have written and gotten it out to people that I would have never thought I could reach.  I'm grateful for the efforts of Crystal and those who work with her to have helped my message reach an ever growing audience throughout the last year.
I realize not everyone is as fortunate as I this Thanksgiving.  However, I do believe that if those who read these posts take the time to stop and think, they do have some very special reasons to be thankful for the people and activities that support them as they move forward in their life.  Everything may not be going as perfectly as you would like, but imagine what things would be like if those that do help support you were not there at all.  My best for a Happy Thanksgiving holiday to all my readers this year.