Here's the Pitch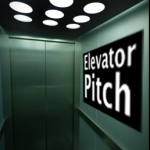 I was asked to speak this past week at my local Chamber of Commerce on the topic of "elevator pitches".  For those of you who may not be familiar with this term, about three years ago, I was in a similar position as you.  Known as either the elevator speech (since it is aligned to the concept of how long you have to make an impression on a person during an average elevator ride), or the (one or two minute) pitch, the purpose behind it is to allow someone to quickly understand what it is that you or your company does, and what you can provide for them.  In today's ever transitioning world its importance continues to grow.
For the job searcher, a proper pitch is essential in helping to position them correctly with perspective employers as to what they are able to offer a firm.  Entrepreneurs find it essential in promoting what their newly found businesses can offer prospective clients.  Those who do event planning know of its need when promoting functions they are holding where they are looking to attract as large an audience as possible.
Building an effective pitch takes commitment and practice.  A really strong pitch starts out by telling your targeted audience who you are in as short, succinct but informative language as possible.  The second sentence of your pitch emphasizes what makes what you offer unique from what others offer.  The final part of the pitch looks to promote either what you have accomplished, (especially in the case of those doing job hunting), to particular outstanding products or services you offer your clients if you are a business.
Today's world is far faster paced than in the past.  Attention spans are far shorter.  In a television and internet based age, the pitch goes hand in hand with looking to quickly grab the attention of your audience, (even if that is an individual in a one on one conversation), and get them to engage with you further to learn more about you and what you have to offer.
How is being aware of the concept of elevator pitches important to those facing mid-life transition issues?  Many who are between 40 to 60 years old find themselves back searching for employment after not having done so for many years.  The ability to "pitch" yourself properly is usually the difference in either increasing your chances of getting interviews or seeing your job search stall.  The pitch you develop, (and are able to deliver verbally), carries over into the summary of your resume', the conversations you have with interviewers and in being able to demonstrate to a perspective employer how you are the proper fit for a particular position.
Even in non-job search experiences at mid-life, those with the ability to properly pitch what they can contribute can use that advantage to convince educational institutions how they are viable candidates to pursue advanced degrees or to express to committees or organizations how they are appropriate for positions of leadership.  No matter who you are among the most common questions you will receive at social gatherings are: "What do you do?", "What kind of job do you hold?" or "What does your company do?"  For those who are looking to use those questions as a springboard to either move into a new venture, find new partners with which to work, have services they are looking to promote or find the right contacts to begin a recreational activity they have for a long time looked to pursue, the ability to answer those questions succinctly, but with enthusiasm, is essential.
Can developing an elevator pitch be intimidating?  It can be if you don't take the time to practice what is the message you are trying to deliver to your audience.  Will my pitch be appropriate for all audiences?  Not always, but that is why it is both good to get to know the needs of the person to whom you are speaking, (by doing research ahead of time or asking directly), so that your pitch can be adjusted accordingly to display to that person how you can meet their needs.  How do I know what to say?  First, know what the message is you truly want to deliver.  Make sure it is what you want your listener to remember about you after you are gone.  Additionally, listen to how those close to you describe you.  You may find appropriate ideas in that feedback that may make an ideal way to pitch who you are and what you can offer.
Above all remember, that a strong pitch is something that can help you to attain what you are looking to achieve in your life.  It has the power of opening doors for you to the right contacts with which to connect which can help meet the needs for the resources or audience you seek to attract.  It is positioning your most valuable asset, yourself, to the world at large.  It is something that is entirely owned by you, about yourself, and which you can modify and adjust as your desires change as to who you want to be and who you want to serve.