For Some, It's Not Easy To Enjoy Being Laid Back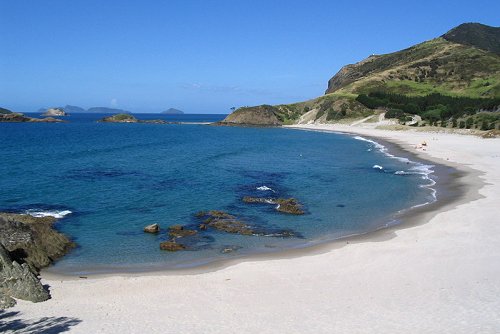 I have traveled often in my life.  It is something that I have enjoyed doing for pleasure from my first airplane trip as a teenager.  Over the years, I've had the good fortune to go to many places within the United States, to several countries in Europe, several locations in Canada plus New Zealand and Australia.  I definitely am a person who enjoys sight seeing and would not classify myself as a beach person.
My wife on the other hand loves the beach.  Laying back, listening to the sound of the ocean, taking walks along the beach and just watching the surf is something she enjoys thoroughly.  While she too loves to see sites, she has for the last several years done things very differently in her life.  Bicycling vacations where you go with from point to point have taken her to several locations where she has gotten close to nature and the environment around her.
Therefore, when we recently went away on a vacation to a condominium on a beach in Florida that her cousins were so generous to let us use, you may be able to quickly figure out who was completely in their element and who had some difficultly adjusting to their new surroundings.  When you also add in the fact that in our day to day existence I tend to be one who schedules their day so that I have a game plan as to what I intend to accomplish and am the one who gets involved in various meetings and positions of responsibility, a life of just sitting back and enjoying ones surroundings is not something to which I am easily accustomed.
When you go through a certification program to become a coach, it is likely that somewhere along the way you will be introduced to concepts that will encourage you to get more in touch with yourself and the world around you.  As I was at the beach with my wife and looking to adjust to a "life of leisure", I thought back to some of those classes.  I tried my hardest to accept that taking a few days for myself with no computer contact, (my choice, even when I go sightseeing), limited phone contact, and no focus on anything work related was perfectly acceptable.  Admittedly I struggled with this for the early days of the vacation.  However, as time passed, and I started to accept where I was and what was around me, little revelations started to take place.
Sitting on the beach I started staring out at the ocean.  As I watched as wave after wave came in crashing against the shore how the ocean had been there long before I was here, and how it would be there long after I'm gone.  While there was some building where I was in the form of condominiums, much looked as if it had been there for a long time.  The sand, the dunes protecting the shore, the sea shells on the beach and much of the vegetation along the shoreline had obviously been there for ages.  I looked at the clouds moving through the sky, felt the wind providing refreshing breezes, and heard the continuing sound of the waves hitting the shore.
At the same time I used the opportunity to catch up on my reading.  There had been a book I had purchased about 3 months previously that I had wanted to read very much.  Now I had the time to do so.  Sometimes in my everyday life I can get so involved in doing tasks, that I don't always get the opportunity to plan and think my next steps through.  Now that too was also available to me.  The time also allowed me to take several walks with my wife, the closest person to me in my life, and connect on a special level that sometimes the day to day distractions can take away.  Having a few days to approach things a little differently than normal was turning out not to be that bad at all.
So, what did I learn from my experiences?  One thing is that even though you may have been exposed to methods on how to enjoy fully that which is around you in life, (the sounds, the sights, your own breathing), it is not always easy to do so, especially if you are not wired that way.  Another is that with some better planning and forethought I could strike a "balance" between enjoying the environment I am in for what it is, yet at the same time bringing along with me items that will keep me connected to the world I've left behind.  A third is that ultimately life is a series of experiences.  My time at the beach was one such experience.  After that, we moved onto a few days in a more urban area where we spent time with a friend, and enjoyed attractions of that area such as museums and walks along the pier.  So, another lesson that came to light is if you're not comfortable with the experience of the moment, be patient, because another one will be coming up along the way.
Yes, for me being laid back is not necessarily my way to be.  However, for short bursts, I learned some valuable lessons on how to adapt when I am in that environment again.  As best as possible, I'll look to remind myself to live moment to moment, experience to experience, and do the best I can to adapt to the situation I'm in at that time.