Emotionally Touching Others May Require Perseverance on Your Part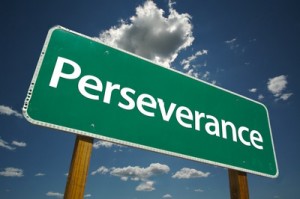 When one is a coach they become a bit more sensitive in trying to connect emotionally with other people.  Whether it is part of an actual coaching session or even in our day to day contacts as we go about our day, there is a nurturing tendency to be there for one that appears to need support.  Last week I was involved in a discussion with other peers who are part of my profession.  We are all part of an organization of professionals that's primary mission is to promote our profession, and at the same time support the individuals who are part of it.  We're all volunteers in our effort, which can mean at time we can both feel gratitude and frustration over what we are doing.
The gratitude certainly comes about when we make connections with others in the profession and help them through an issue they may be having in growing their business or determining the best way to support a client.  The frustration comes about when members spend hours on preparing and setting up various educational programs on behalf of members and attendance at these events is sparse.  Although we've been trained to be better in touch with our emotions, coaches are human too.  We can get down when things don't go as we like, or we feel our efforts are not appreciated.
As my fellow coaches and I discussed this issue further, one of them expounded on an excellent point that has stayed with me since that session.  The point basically centered on the question, "What is it that people care about?"  The answer to that question will identify that which with they are willing to engage.  If a topic or approach further is one that is going to help them move forward in terms of what they are looking to accomplish, they are more likely to participate in activities or tasks involving it.
Often we may feel we know exactly what it is another needs.  We take our time to make our plans, build a solution, offer it to another and then feel unappreciated when our efforts are met with indifference or even hostility.  While our intentions may have come from a true desire to help another, what we may have thought to be the best method to reach that person may not have been appropriate.  For example in the organization of coaches I discussed above, our most often used method of educating members has been through in–person presentations in the early evening.  While that may work for some members, it may not work for others.  Some members may find that a bad time for an in-person meeting.  As our association covers a wide area, the driving distance may be an issue.  Or, the topic for the evening may not meet a given person's need.  Meanwhile, those organizing the programs have put in many hours setting up the venue, contacting potential speakers and promoting the event.  Their intentions are to present the best programs possible for members, but as you can see other factors get in the way.
How do we best touch others, when we're sincerely interested in being there for them?  I don't think there is one set answer.   In fact, the answer is likely closer to there being as many creative ways possible as one can imagine.  Perhaps it involves surveying the population you are supporting.   It may involve offering a variety of approaches, (in the example above, perhaps meetings at different times of the day, or a balance of virtual meetings versus those that are in person).  When the relationship involved is a one-on-one relationship, the person looking to support another needs to consider what is the best way that the person being helped cares to receive information.  Some individuals prefer to read and learn.  Others do better absorbing knowledge via conversation.  Others may want to be pointed in a direction and explore on their own.  Still others may actually desire a helping hand to be with them every step of the way of a process.
If you are one who cares to help others, whether it be as a good listener, a volunteer for an organization or in a helping profession, and you feel frustrated that your efforts are not appreciated, be willing to take a step back.  Obviously, you have a lot to give, or you would not be in the role that you are in.  Determine if the approach you are using is one that has come to you based on what you think is best as opposed to having asked those you are helping what would work best for them.  Be flexible in approach realizing what may work for one individual, may not work for another.  Above all, don't let your passion to support be discouraged by an immediate non-favorable feedback.  It may take time, it may take input, it may take modifying an approach, but if your cause and efforts are worthwhile, there will be those who you will touch and they will appreciate the efforts you have offered.