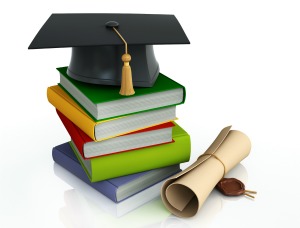 Since its inception, the Absolute Transitions website and the coaching practice I provide have been targeted to those going through transition at mid-life.  However, a valuable lesson I learned over the past year, particularly as my focus moved more toward working with individuals in career change and job search, was how valuable the tools that are a part of my practice are for those just entering the workforce.  If you are a parent to a recent college graduate, it is not uncommon in today's economy that your young person is struggling to find that first employment position.  In looking at this closely, it's truly not their fault.
The world of employment that the graduate is entering is far different than that of their parents.  As many as 90% of available jobs are in what is known as the "hidden" job market.  By that I mean, they are not readily advertised or placed with search firms.  Those entering the workforce today can expect to change careers 4 to 5 times and likely will have 12 to 13 jobs during their careers.  That means on average, their job will change every 4 to 5 years.  The skills to navigate such an environment are different than those that served previous generations well.  The need to network and speak to others, as opposed to putting one's resume' into the general population and waiting for a call, is becoming absolutely essential in today's world of seeking employment.
When I began to speaking to groups of my peers and explained the type of coaching services I provided, a number came up to me asking the following.  They indicated while they were happy in their career, they had a son or daughter at home who had recently graduated and was struggling to find themselves in terms of employment.  Would what I knew and offer work for their child?  While I did always caveat my answer with the fact it did depend on how much effort their son or daughter wanted to put into the process, that yes the methods that I had been taught would work with anyone of any generation.  In fact the Five O'Clock Club methodology that I was introduced to in 2011 is billed as a "graduate course in job search."  Who better to respond to a graduate course than a recent student?
I am currently working with two clients under 30 years of age who while presently employed, are not happy in their current positions.  They are looking to move onto career pursuits which match far more to their interests.  Both have absolutely enjoyed the Five O'Clock Club methodology.  A comment each of them has made to me is that no one had ever exposed them to the concepts I am sharing with them before.  I assured them that was not a surprise to me.  First of all, what I am giving them awareness of is generally not taught in any university.  While our universities and schools do an excellent job of preparing our graduates for the nuts and bolts of their discipline, they don't focus on how to go about finding the opportunities that will allow them to practice what they have learned.  Additionally, many of our young people's parents are currently learning themselves that the job search landscape has changed significantly from the last time they were in job search many years ago, particularly if they have been forced to search for a new position.
Certainly there is a cost to hiring a career coach.  That cost may be more than some people can afford.  However, even just the Five O'Clock Club texts from which I did my learning are not only both affordable, but well worth the investment.  The basic series of 4 books costs approximately $50 and provides guidance not only for your graduate's current job search, but throughout their entire career.  That's how spot on the guidance provided is as it has been developed over 25 years of experience and research with thousands of clients.  Five O'Clock Club career training books can be found at your local bookstore chains, both in person or online, or at the www.fiveoclockclub.com website.  Many who become actual members of the Club actually are initially exposed to the methodology first through the books and then find they want to supplement it by working with a career coach.
It can both hurt and be frustrating to see someone you love suffer as they go through the job search process.  It can be especially disheartening when it happens during the first major search of their life.  Giving the gift of guidance of how to develop your search campaign and providing additional support for your young job seeker, is one of the best things you can consider providing them this holiday season.  Whether that is through the Five O'Clock Club texts, through the Five O'Clock club career coaching program or working independently with a career coach privately, it is helping to give your graduate the assistance they may need to get on the road to starting their career.