Absolute Transitions Proud To Be a Coach for Roving Coach International
Absolute Transitions Proud To Be a Coach for Roving Coach International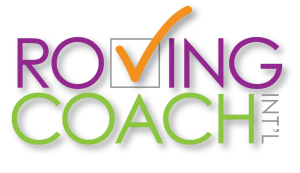 About a year ago I received an email about a venture being started by three women from North Carolina that intrigued me greatly.  The name of their new company was Roving Coach International, and their goal was to make coaching available to middle management and professional personnel in midsize and large companies throughout the United States and in the offices of those employees working outside of the United States.  Having worked in a corporate middle management position for thirty years, I knew that their efforts were being targeted to a population that could truly benefit from the ability to work with a professional coach.
One year later, CJ Scarlett, Nicoa Dunne and Stephanie McDilda's vision continues to live and grow each day.  Having started out first with clients in their home area of the triangle region of North Carolina, they have expanded their marketing efforts to a number of cities around the country.  In August of 2011 they were in New York City speaking with potential clients.  During that visit I had the pleasure and privilege of their reaching out to me where they asked me if I wanted to be part of their effort to offer coaching services to middle management employees of their clients in the New York/New Jersey area.  I quickly accepted their offer.
Roving Coach International works under a model where they bring coaching to your place of work.  A Roving Coach can work with up to eight employees a day, in 30 minute laser coaching sessions.  They provide an independent voice for associates to work through issues that may be impacting their work performance, whether those issues are actually originating at the work site or in the associates personal life.  They offer their services as a perk to the employee.  Their services can be provided to clients either in-person or remotely, such as by telephone coaching sessions.  Additionally their service is an excellent item to offer to a company's associates at offsite conferences so as to allow staff members to experience the benefits of a coaching relationship.
While it is usually customary for Roving Coach to make their initial contact with a company through its executive management to discuss their services, their benefit is also one that human resources professionals, or even employees themselves, should explore.  After meeting with a Roving Coach representative, you will have all the material and answers that you need to bring back to your management team as to why their offerings are a leading edge benefit to bring into your company in today's world of business.  To learn more about Roving Coaches benefits, click on this link.   Additionally, there is a list of frequently asked questions prepared by Roving Coach themselves of the services they provide.   You can also discuss the benefits of Roving Coach by reaching out to Tony at tony@absolutetransitions.com or by calling (973)-762-1350, and he will be sure to put you in touch with the appropriate individuals at Roving Coach who can meet your needs.
Roving Coach's motto is to Create World Peace in the Workplace.  If you have always felt the benefits of coaching should extend beyond the executive suite, then Roving Coach is the answer for which you have been looking.