Changes Reflect "Absolute Transitions'" Continued Evolution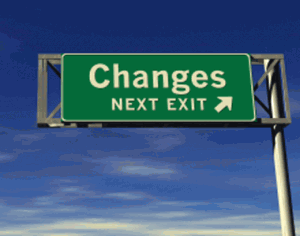 Over the course of the last several months I'm sure those of you who regularly read this blog posting and are visitors to the Absolute Transitions website have noticed a movement on my part to a career coaching focus.  My studies, and ultimate certification in the methodologies of the Five O'Clock Club, have positioned me well to help serve those in need of coaching in this area.  As an outgrowth of those studies, you will begin to notice some changes on the Absolute Transitions website and to the offerings which you will see on the site.  Some of those changes have begun in August, while others will emerge in the coming months.
The first change you may notice is the slogan at the top of the site "Your Strategic Career Development and Job Search Coaching Partner." I have always felt that I am a partner to the clients with whom I work.  That has not changed with my move into a career coaching focus.  What absolutely attracted me to the Five O'Clock Club program however was its discipline and focus on a strategic approach to job search.  Five O'Clock Club methodology is based on over 25 years of research.  It provides multiple approaches to the ways to reach out to make contacts with those who are able to help you in your job search.  It puts a great deal of stock on research done by the individual in conducting their search and encourages an active approach by the individual in conducting their job search or career change.  It advocates the use of a career coach for guidance and a reliance on fellow job seekers as ones to help you as you move forward with your search.  It indeed is very strategic in its approach and has worked for numerous members of the Club in being able to receive job offers in half the time than the public at large.
Other changes to the site include some updated pictures, revised text on the welcome and background page on myself, and a focus on 30 minute complimentary career consultations for those who are interested.  However, the changes go beyond what you see directly on the website itself.  I have been privileged to be exposed to a great deal of information on how to best conduct a job search, and I plan to share that knowledge with those I come in contact.  While this knowledge sharing does not fully take the place of reading the Five O'Clock Club books, being a member of a Five O'Clock Club coaching group or working with a career coach privately, it does provide a great deal of guidance on approaches to use that you may not be considering today.
Beginning on September 20, 2011, and running on a monthly basis through May of 2012, I will be providing a free monthly teleclass on a different job search topic each month.  This series which I am calling "Job Search Lessons They Should Have Taught You in School" begins on September 20th with a session entitled, "Developing and Sustaining Your Job Search Campaign." A description of the session and the ability to enroll for it can be found here on the Absolute Transitions website throughout the month of September.  There will also be a schedule with dates of the other remaining sessions so you can mark your calendar in advance to be an attendee.
In addition to teleclass sessions, I am also intending to do more in-person career guidance sessions in the northern New Jersey area where I reside.  The first of those is on September 13, 2011 in West Caldwell, New Jersey for the Professional Service Group of West Caldwell, when I will be speaking on "Developing and Managing a Strategic Job Search Process".  In subsequent months I expect to be speaking in front of various associations, clubs and gatherings that have regular speaking programs and which are seeking presentations on career related issues and strategies.
The move to class and speaking presentations on career based topics has led me to decide to modify my blog posting schedule.  This will be the last week of two new blogs appearing each week in this space.  Beginning the week of September 4th only one new blog post will appear each week, and that will originate on Wednesday's of each week.  Our monthly newsletter "Our Transitioning Times" will continue to appear once a month, on the second Wednesday of each month.
A few weeks back I wrote a blog on how there are evolutions in a person's life.  The changes taking place on the Absolute Transitions site and in my practice is such an evolution for me.  I look forward to being able to work with many different individuals in need of a partner to help them through the maze of options and approaches that are part of today's world of career development.  I look forward to providing you continued advice in this area, and always look forward to speaking with you and possibly working with you if you believe I can be of help to you as you move forward on your career journey.