Believing in Your Dream Is the First Step in Sending You on Your Way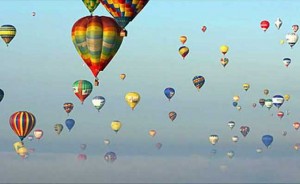 As I turned the page to the month of July on my "Motivations" calendar in my office this morning, I was greeted with a picture of several hot air balloons floating along in a clear blue sky.  I have actually had the chance to ride in a hot air balloon two times in my life many years ago.  My memory of the experience was of it being among the calmest and most serene I have ever felt.  I remember the quietness floating along in the sky several hundred feet above the ground.  About the only sound I can remember was the occasional burst of the flame heating the balloon as the pilot directed it across the sky.  One could see for miles in all directions.  As we drifted along, you could see the world going on around us below.  While people about with their activities at hand, in turn those of us in the balloon felt a sense of peace and control of our emotions with an opportunity to enjoy the beauty that surrounded us.
The Motivations calendar contains the monthly quotes which I have been sharing with you as 2011 has gone along.  The quote which goes along with this month's picture supports the theme of Vision.   This month's quote was delivered by former first lady, Eleanor Roosevelt, and goes like this: "The future belongs to those who believe in the beauty of their dreams."
Can moving forward in new directions or following dreams frustrate you?  Absolutely, because none of us can ever predict exactly what obstacles will be put in our way.  When challenges emerge, it may cause us to question our dreams and whether they are worth pursuing.  However, even the most worthwhile of dreams does not necessarily come without a lot of sacrifice, hard work, commitment and overall focus on the "beauty" of what we're looking to achieve when our dream becomes our reality.
As the calendar moves into the second half of 2011, use it as an opportunity to reexamine your dreams.  You may want to use the goals you set at the beginning of the year as a starting point.  Or you may want to examine what has happened to you during the first six months of the year and see how what has transpired is keeping you moving toward your eventual vision, or how it may have put you off track.  Mid-year is also a great time to determine if you perhaps in some way want to alter your dreams or the steps you are going to take in terms of getting there.
Have some sort of dream in your life.  It doesn't have to be anything elaborate.  Perhaps it is taking a vacation you have been putting off.  Maybe it is exploring a new hobby or interest.  My ninety-eight year old mother-in-law keeps herself always pointed forward by looking to be part of the next great family event to happen.  Already for the balance of 2011 she is looking forward to seeing two of her granddaughters get married, and seeing two more great grandchildren born into the family.
Finally in looking at the quote one last time and keeping in mind the image of those hot air balloons floating across the sky, remember part of that beauty that is in the future requires you to live in the present.  Let go of past hurts and failures.  Don't lament what might or could have been.  Set the foundations now for what you want next by planning the steps you will take to get you where you want to go.  Remember, it likely will take you awhile to reach your destination.  So, as such, pace yourself properly and do a bit each day to get yourself to that beautiful dream that you see.  By having the vision to which you aspire, means you have already started yourself on your journey.  Now enjoy taking the steps which will help it become your reality.