At What Age Do You Choose to Function?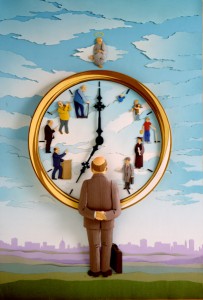 Last week I celebrated my birthday.  A question I have received in recent years from family and friends on my birthday has been one that has gone something like this.  "Well, do you feel any older this year?"  There are a great many feelings that arise when you bring up the subject of aging.  To some, it means a sense or feeling they may not be able to enjoy activities they did in the past.  Others may feel that certain of their abilities, (be they mental or physical), decline.  Still others prefer to not think about the topic at all.
This year I turned 56 years old.  On my birthday I took part in a walk for charity for a food bank in my home state.  The walk originally was supposed to be for 5 miles, but because one of the signs which directed our route was missing, my wife and I actually walked 7 miles.   I'm a person who has had Coronary Artery Disease in my life and five angioplasties.  However, I'm also a person that has learned that if you take the time to take care of yourself, get treated for what ails you and practice healthful habits even with past illness you have the ability to live an active life.
In many ways this has been the most enjoyable time in my life.  I certainly know that I take a less stressful view of my surroundings, especially since I have come to accept that I make the choices that set up the make up of my day.  I've come to enjoy reading a lot more and being educated through teleseminars or lectures.  Admittedly my interests in the last couple of years have taken me away from what I would term is "the in thing" in popular culture, but I find that I don't mind.  Even spectator sports, something which has always been a passion for me is enjoyed for the fun of seeing the game as opposed to being obsessed for days if my favorite team wins or loses.  Yes, I still enjoy rooting like everyone else, but if the reality is the team I root for is not good enough, I accept it for what it is and realize my having "life or death" feelings over it is not going to change results.
Chronological age is what you make of it.  It truly is "just a number", in this case the number of actual years you have been on earth since your birth.  You cannot control your chronological age.  Your functional age is a completely different matter.  That is how you choose to live your life no matter what age you are at.  It may be enjoying activities you always enjoyed doing.  Or, it could be taking advantage of new found time and interests to explore activities that you never tried before.   Those that function at a high functional age level are the baby boomers you see returning to college to complete a course of study, or a person who has been in one career for many years deciding to open up an entirely new business for the enjoyment of it.  There are several different ways you can choose to approach the fact that you are aging chronologically.  Some just seem to be more fulfilling than others.
So, to all of you out there that are facing or have recently faced a birthday, and you never envisioned yourself at the age you are now, remember you can't change the actual number of years you have been alive.  However, you sure can change how you choose to live that life you have been given and make of it something which you enjoy to whatever level you desire.  The way you "function" at any age is more a reaction to your attitudes and emotions, than what any calendar may be telling you is so.