Assess Your Situation before Making Your Plan of Action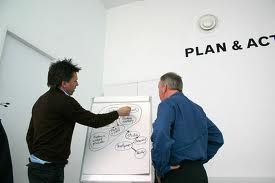 One of the best items in a coach's tool bag in helping a client is to use an assessment to help the client gain a better understanding of themselves.  While assessments can vary substantially in their makeup and design, a truly well designed assessment helps one who takes it see patterns in their thought processes or in the things in which they have accomplished in their life.  When taken purposefully and thoughtfully, by putting all distractions to the side, the assessment taker will have for oneself a very valuable feedback tool.
Over the last few years I've been exposed to three very good assessments each with a different purpose and which I highly recommend.  The first is one that is featured on the Absolute Transitions website and is known as the Energy Leadership Index assessment.  It is an assessment that measures one's energy level in terms of their emotions and attitudes.  A seventy statement multiple choice assessment, developed by Bruce D Schneider the founder of the Institute for Professional Excellence in Coaching, (IPEC), the assessment defines for an individual the Average Resonating Level (ARL) of energy at which they live their life.  The higher the ARL, the more an individual is using their emotions and thoughts to take accountability for leading the situations which that are a part of their life head toward the outcomes they desire.  Lower ARL measurements show areas of frustration, concern, anger, fear, grief and apathy in one's life.  The key is the Energy Leadership Index assessment provides awareness to one who takes it on how altering their thought patterns can more easily lead them to what they want to attain in their life.
On the www.whatsnext.com website is an assessment that helps one rank the values that guide their life.  This 55 statement assessment compares 11 different values in 55 separate pair combinations.  The results show the assessment taker what they may value more in life; (for example is it achievement over family life, is it health and wellness over financial stability).  The results are completely subjective depending on what is important to you in your life.  However, the answers to this assessment can help one in making the decisions they come up against daily in determining if the decisions they are making are in alignment with the values they possess.
During the month of March I have begun a certification program in working with individuals on properly mounting a job search process.  The first step of this program is to have one take an assessment where they list the 25 greatest accomplishments in their life.  It does not matter if the accomplishment happened in their work life or not.  It does not even matter if no one else recognized the accomplishment for its significance.  As long as it was important to the assessment taker, and they can explain the reason for the accomplishment, it is one that should be considered among their top 25.  While one can quickly try to identify 25 accomplishments, this assessment guides the taker of the assessment to jot down ideas over a several day period.  It encourages examination of one's life and also discussion with others who have been a part of it, to stimulate conversation and thought on what activities the individual has been involved.
When taken with dedication and care, the assessment allows its taker to see patterns in the accomplishments that have common themes.  These themes in turn help the assessment taker to identify characteristics of a job position that would likely be important to them as they move forward in defining their next career move.  It additionally helps the individual in branding themselves for both networking and direct mail campaigns for their job search.  Accomplishments identified also aid in resume' preparation for the remainder of the job search process.
Yes, the taking of assessments requires a commitment of time in both the taking of the assessment itself and the ultimate analysis of results.  There will be those who may challenge the value of using their time in this manner.  However, if one finds themselves moving aimlessly from task to task, not seeming to obtain what they desire and just going through the motions of life just to survive, taking a step back to analyze what is going on in one's life may be the best step one can take.  Ultimately the intention is to develop plans and take the necessary action steps to where one wants to go.  However, to do the plan without assessing who one is and what they are about is a certain recipe for living ones life in a sense of constant frustration.  As I generally say, "It's your choice"!
(NOTE:  If you would like to discuss assessments further with me, you can reach me at tony@absolutetransitions.com, and I would be happy to discuss them with you).