A Chance to Pick Up Where You Left Off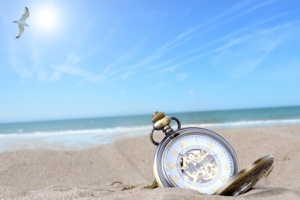 September is a time for new beginnings for many. For those pursuing an education it is the start of a new school year. For college and professional football players it is the start of a new season. Car dealers begin displaying the new models for the coming year, while in the world of television, new programs are on the season schedules of TV networks.
September marks the close of the summer season. Often our lives take little twists and turns during the summer. Family vacations give us an opportunity to relax and unwind. Many of our weekly or monthly activities slow down or are even not held during the summer months. It can be time where our focus on the activities on which we had been concentrating earlier in the first 5 to 6 months of the year tends to go off course.
There is nothing wrong with enjoying the activities of summer, particularly when they refresh us and bring us closer to the people and things we love. Yet I often meet those in my day to day activities who are almost "apologetic" for having enjoyed the summer. They have let their job search slip. They have lost contact with those that they have meant to build relationships. Projects that they had started, sit exactly where they were when they were put aside in June.
I myself find that I can also be guilty of feeling this way. I'll check my notes and see I have not connected with a given client in a while. Or, I promised to connect two people through an email introduction and have not done it. Perhaps I meant to share an article or set of tips that may help another with an issue they have been having. Even on the home front, piles of paper are on the desk or cabinet in my office I have meant to sort through and resolve. Or, a long term house hold chore (think cleaning out a closet or the cellar) stares back at me.
No one can get the time back that has passed by. However, they certainly can take hold of the present and begin addressing that which they have put on hold or pushed aside. Unless an item is absolutely "time sensitive" (it had to be completed in July or August) there is nothing wrong with stepping aside and begin rebuilding your schedule. Develop that calendar of activities, (not in your head, but on an actual paper or electronic calendar), and schedule those events and activities you want to do. Reach out again to those you had begun relationships with before the beginning of summer. You feel almost embarrassed to do so? Remember, they have been busy with their summer activities too. Likely they are rebuilding their calendars. It is the perfect time to reestablish that connection and get on their calendar. (You can talk about your summer experiences as an Ice Breaker before getting down to business).
As the monthly quote on the Absolute Transitions website for September points out, judgment is not in how far you have fallen, but in how you bounce back. Make the end of summer and the beginning of autumn your new season to pick up on those items that you have put aside that are still important for you to accomplish during this balance of 2016.