"Our Transitioning Times" to Launch It's First Edition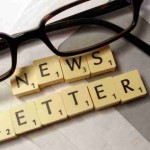 I am now in the ninth month of writing this twice weekly blog on the www.absolutetransitions.com website.  I've enjoyed doing so very much.  Blogging has afforded me an opportunity to express my thoughts on feelings and experiences that are very close to me.  I have received back many kind words on a number of the postings, and have been able to connect virtually with people in many different locations and many walks of life.  Writing the blog is something which has become a regular part of my week to which I look forward.
On Wednesday, June 8th, I am starting up another way to communicate with others who share similar thoughts and interests by launching a monthly newsletter that will be named "Our Transitioning Times".  A new edition of the newsletter will be released on the second Wednesday of each month.  It will be more tightly focused on sharing many of the ideas and methods I have learned over the past two years in two important areas.
One piece each month will be devoted to topics on job search strategy methods.  As I intensified my efforts of partnering with those working through mid-life transitions, it became obvious very quickly that issues involving seeking employment was at the top of the list for this demographic.  Many had lost long time first career positions.  The financial events of the last few years had put many in a position where they were seeking again to be employed.  Others felt that they did not have enough money saved at this point of life to walk away from work.  And, others who may have had the financial resources to go forward without working were still seeking some kind of employment that was more enjoyable and less stressful than what they had previously.
For many in this population, they had not been in a job search situation for quite some time.  Others may have been in job search for awhile, and have struggled with methods and approaches that have come about over the last several years and appear nothing like what they knew in the past.  Additionally, the sheer number of people searching made the search process more onerous.  In March of 2011 I received an offer about becoming a certified career coach for the Five O'Clock Club, an outplacement firm based in New York City.  Realizing that the population that I was looking to serve very much needed help in this area, I researched what the Five O'Clock Club methodologies were all about.  I was extremely impressed.  In short the Five O'Clock Club methods are the most thorough and research based in conducting a job search campaign that I had ever seen.  Additionally, their success rate with their members in reaching the stage of receiving multiple offers was extremely impressive, (as quickly as within ten to twelve group coaching sessions).  I have been doing my certification training in their methods since March and look to be fully certified within the next two months.  Additionally, I have become an advocate of their methods with everyone I meet.  All material within the job column of "Our Transitioning Times" is from those methods that are a part of the program in which I am being certified.
While work is an important aspect in one's life, it is only one component.  The living of life itself, one's fulfillment, emotional enjoyment and getting the most out of everything you do and experience is the basis of a happy life.  This is not always easy to achieve.  Day to day stresses can get to all of us, and often events that are not in our control are placed in front of us as part of our life's journey.  However, what we do have a say in is how we choose to view those events and circumstances and in turn determine how to learn from them and take with us the best parts.  The second column which will be in "Our Transitioning Times" each month is based on the over 400 hours of coaching certification studies I have already received and on the continuing education I receive through the readings I do and the lectures I attend.  Life's experiences are never going to be perfect.  However, as one receives additional perspectives on how to view and experience one's life, I've found that one learns to bounce back quicker when things are not going their way.  The life based column of "Our Transitioning Times" will allow me to share those perspectives I learn and experience.
As the months go on, I'll continue to evaluate what other features to add.  I am always open to suggestions from my readers for things they may like to see.  If I feel qualified to provide it to you, I will.   However, for now, I'm excited about launching this new part of my practice.  I hope you enjoy reading it, and if you do enjoy it, please share it with a friend who may also benefit from it.  Thanks, in advance for your continued support.